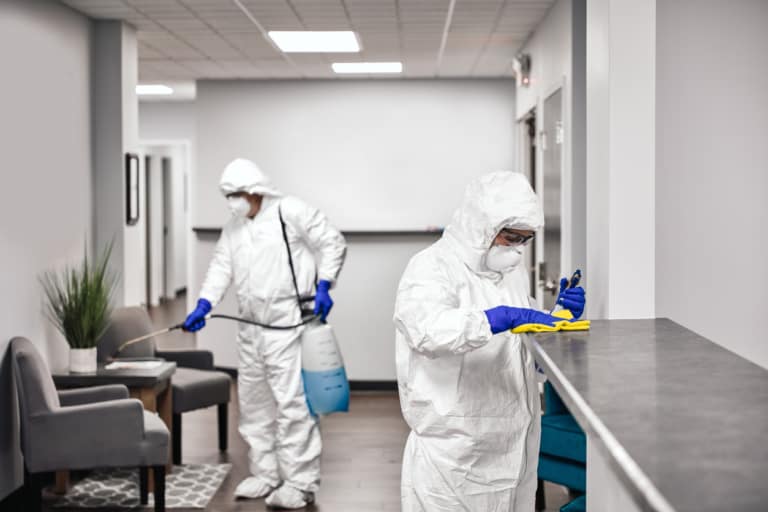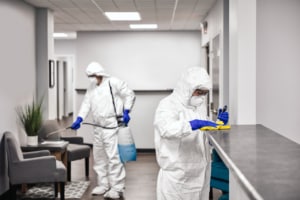 Your home or business must be keeping you safe at this vital time. With our Antiviral Sanitisation services, you can be sure that your environment is protecting your employees and your family from harmful viruses like COVID-19. Our antiviral cleaning services are perfect for any businesses returning to the office or to protect your home from bacteria and viruses.
The technicians at Cleaning Express who carry out all of our Antiviral Disinfection services are fully trained on all the equipment they use. They are also trained in all of the best practises, using this equipment in the most effective way possible. When you phone Cleaning Express to book your antiviral sanitisation cleaning, we ask a few quick questions about your property. We assess what needs to be done. Then our technicians will come in a prepare your office or home for the disinfection process. Then, we use a fogging machine to spread a bio detergent over the area. This detergent is safe to us but deadly to any bacteria or viruses in the area. We leave the detergent for 60 minutes to kill any bacteria. After this, you'll have a protective layer covering the surfaces of your home or office. Your office or home is now protecting your employees or family.
We offer our antiviral sanitisation services because London is a safer place to live and work because of them. We work hard to defend the people of London from viruses every day at Cleaning Express. These antiviral sanitisation services are just another feather in our bacteria-fighting cap. If you're returning to work, you need to protect your office from viruses, give Cleaning Express a call today. Want to protect your home from viruses and bacteria? Cleaning Express is waiting for your call too. Speaking with the amazing Cleaning Express customer service team to book your antiviral sanitisation today, you'll be glad you did!
Call us on 0203 633 0390 or complete this form to get a free quote. Read our reviews on TrustPilot or Reviews.io
https://cleaning-express.com/wp-content/uploads/2019/07/Cleaning-Express-Logo-Full-Size-300x87.png
0
0
Michael Bogoyavlenskiy
https://cleaning-express.com/wp-content/uploads/2019/07/Cleaning-Express-Logo-Full-Size-300x87.png
Michael Bogoyavlenskiy
2020-06-19 12:37:40
2020-12-07 16:38:56
Antiviral sanitisation