21 Types of Cleaning Services – What they offer

This is a comprehensive guide to provide a full list of the types of cleaning services. Whether you are new to the types of cleaning or have limited experience with professional cleaning services. There are many different types of cleaning services you need to know about, so let's get started!
A list of the most common types of cleaning:
Regular domestic cleaning
Deep cleaning
End of Tenancy cleaning
Carpet cleaning
Upholstery Cleaning
Housekeeping
Ironing
After building cleaning
Eco-friendly cleaning
Window cleaning
Regular office cleaning
Office deep cleaning
Anti-viral
Retail
Gym
Church
School
Car showroom
Restaurant
Washroom
Janitorial supplies
Types of Cleaning: Domestic Cleaning
Regular house cleaning services
Regular domestic cleaning services are one of the most common cleaning services. Professional cleaners will come to your home and do some basic house cleaning that you do not have time to do. House cleaning services are always completely customisable to suit your needs. Cleaners can come to your home every week, fortnightly, monthly, or as a one-off, if you simply need a bit of help every so often.
The cleaners will complete any cleaning tasks you have checked off on a provided checklist, such as vacuuming, or mopping floors. Most domestic cleaning customers book cleaners for two-hour basic cleaning sessions, usually once a week, but the choice is yours.
A residential cleaning service is there to help you with the weekly cleaning chores that you do not have time for.
Book house cleaning services or apartment cleaning services that suit your needs. You can ask to add additional services if you require laundry services or waste removal with your package.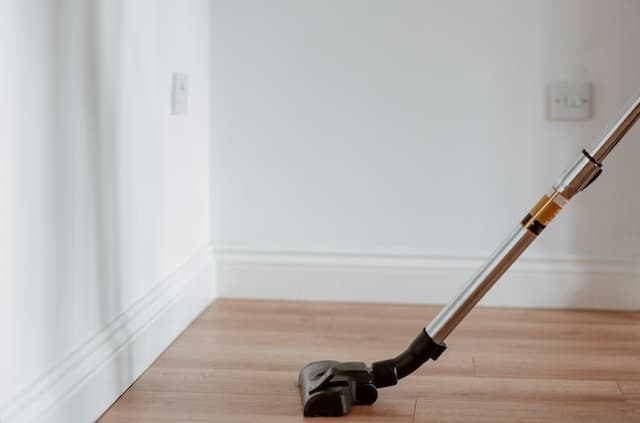 Deep cleaning service
Deep cleaning services are a very in-depth cleaning of your entire home. A cleaning team will come to your home and clean every inch of every room of your house. All of the dusting and floor cleaning such as hoovering, and mopping will be done throughout the whole house.
Limescale will be removed from taps in bathrooms and kitchens as well as a thorough bathroom cleaning. Tiles will be wiped down. Everything will be vacuumed, and the cleaners will move your furniture to get every hair and every spec of dust.
A deep clean is ideal if you have been looking for a cleaner for a while. Or simply do not have the time to deal with tasks such as kitchen cleaning. It allows you to wipe the slate clean and start with a freshly cleaned home again.
A lot of cleaning customers do a deep cleaning first and then use our regular domestic cleaning services to maintain a high level of cleanliness going forward. Deep cleans are the perfect way of getting back on top of the cleaning in your home, and after it is completed, your home will feel clean and ready for a fresh start.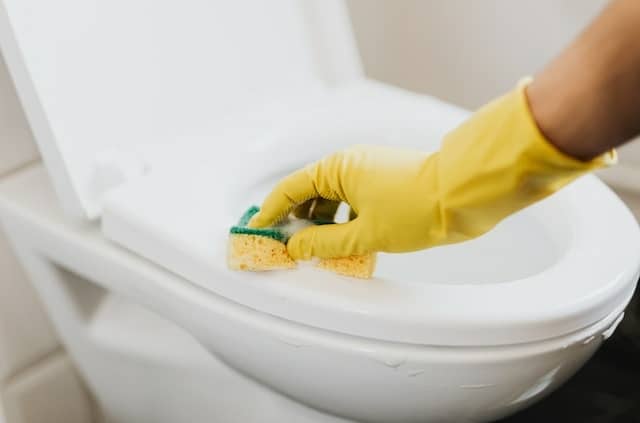 End of tenancy cleaning services
An end of tenancy cleaning service is the most thorough cleaning service. It follows a strict cleaning checklist to ensure that every inch of a rented property is cleaned to perfection and ready for handover. Clients can also add additional cleaning services to an end of tenancy clean, like a professional carpet cleaning service, for an even more thorough clean.
If you are ready to move out of a rented property and are concerned you will not receive your entire deposit back, a professional cleaning company is your best. The cleaners will make your rented property look good as new and ready to be handed back to your landlord.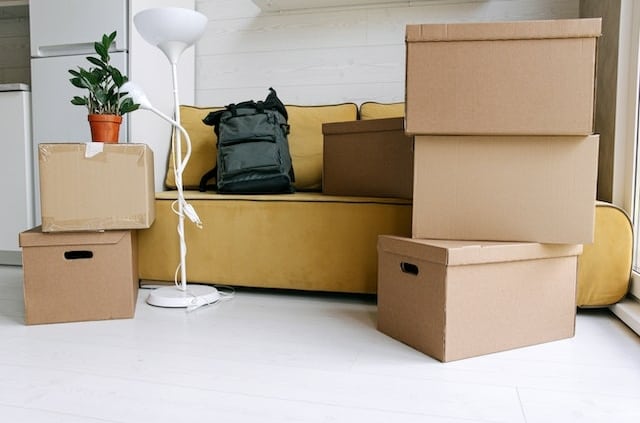 Carpet cleaning services
Carpet cleaning services, or floor cleaning services, as some call them, bring your carpets back to life. While regular vacuum cleaning does a great job of keeping your carpets clear of hair, dust and dirt on the surface, it cannot reach into the pile of the carpet. Carpet shampooing machines force carpet shampoo deep into the pile of the carpet and then use high-pressure air to extract it. This leaves your carpets looking brand new, even after years of not being cleaned.
Carpet cleaning services are often used in conjunction with some of our other cleaning services, like deep cleans and end of tenancy cleans, but they do not have to be. This cleaning service is available as a stand-alone service if you want to maintain your carpets or if you have had a large spill recently that you do not want to stain your carpet.
Upholstery cleaning services
Upholstery cleaning services are very similar to carpet cleaning services. It uses a professional cleaning machine that soaks the fabric in a cleaning solution and then draws it back out again, along with all the dust, dirt, pet hair and anything else. Upholstery cleaning can be used on curtains, chairs, sofas and pretty much any other soft furnishing.
This is an excellent cleaning service for preserving the look of your soft furnishings. It will make your sofas and curtains look brand new again and get rid of any stubborn stains as well.
Housekeeping cleaning services
Housekeeping services provide even more to regular domestic cleaning customers. Sometimes, regular house cleaning services do not provide enough. Some house cleaning business customers usually find that they require cleaners for a longer time or required other tasks to be done.
Housekeeping services allow cleaners to spend more time in your home and tackle more tasks in your home.
If you feel that regular domestic cleaning sessions will not provide you with everything you need, and you would like a cleaner to take care of all the cleaning in your home, then housekeeping services may be the way to go.
You can create a custom housekeeping schedule to suit you and the needs of your home, you can even ask to add laundry services or let them pick up your dry cleaning.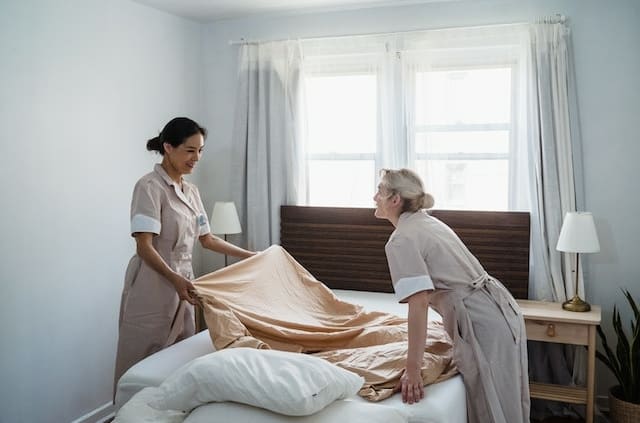 Ironing services
Cleaners can provide ironing services and are typically fully trained in all ironing practices and can iron all types of clothes. They will also fold all of your clothes neatly and put them away for you. They are happy to learn how you organise your clothes, or, if you would prefer, they can place them in each bedroom ready for you to put away.
You can hire someone from a cleaning company to do your ironing for you as a stand-alone service.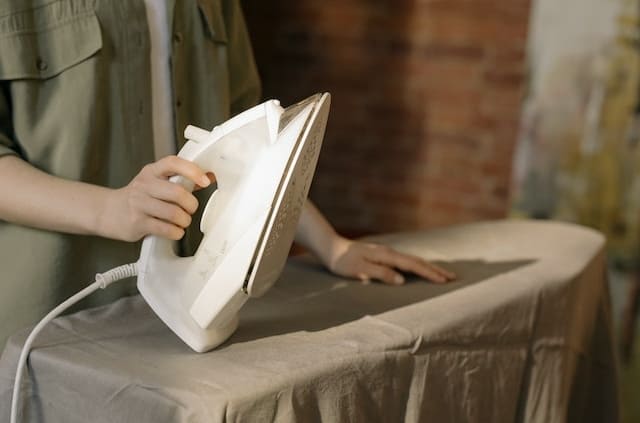 After-building cleaning services
If you have ever had building work done in your home, you know that brick dust, wood chips and cement dust will get everywhere. Even into areas of the home that had no building work.
After-building cleaners use industrial vacuums to get rid of everything and will give your entire home a thorough clean to remove any dust left behind by the builders.
Whether the building work you had was a small job where the builders took the time to clean up, or it was a massive job, and the builders did not do any cleaning at all, it is best to seek out cleaning experts.
Eco-friendly cleaning services
Eco-friendly cleaning services offer a more environment-friendly manner. Using eco-friendly cleaning solutions to clean your home ensures that the planet is not affected by the cleaning services you are having, yet, you still get the same great results.
Eco-friendly cleaning is becoming more and more popular, as many people are trying to do their part for the environment and help out our planet.
Some individuals choose green cleaning services if someone in the house is sensitive to certain cleaning products, or has asthma or even allergies.
Window cleaning services
Window cleaning services are excellent for keeping your windows clean all year round. You can use this as a one-off service in addition to your house cleaning services. For example, you can add exterior window cleaning to a deep clean, end of tenancy clean, or after-building clean to ensure your home looks perfect. You can usually get fascia and gutter cleaning to make the exterior of your home look as clean as possible.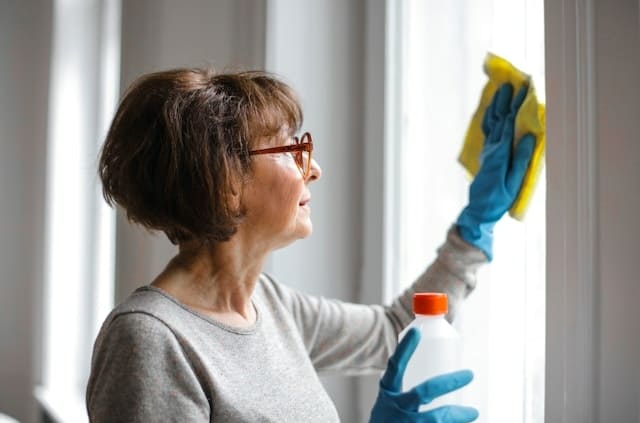 Types of Cleaning: Commercial cleaning services
Regular office cleaning services
A regular office cleaning service is ideal for keeping your office clean and tidy. It is a great commercial cleaning service to use if you want to provide a fresh and vibrant place for your staff to work and ensure an excellent first impression of your business.
Cleaners will take care of all daily cleaning tasks like emptying bins, washing up cups and plates, dusting, mopping floors, wiping surfaces, and a great deal more. Office cleaning services are available at a time to suit you and your staff.

Office deep cleans
If you have just moved into a new office, had a refurbishment done recently, or are about to welcome in a very important potential client, an office deep clean is the ideal cleaning service to use to get your office spaces ready. A cleaning team will come and clean every inch of the office. Every meeting room, every desk and every square inch of the floor will be cleaned thoroughly.
Many businesses use office a deep cleaning service throughout the year to keep their office spaces looking perfect.
Antiviral disinfectant cleaning services
This cleaning service was heavily used throughout the pandemic in many commercial businesses and homes. A fogging machine is used to lay down a layer of disinfectant that kills viruses or bacteria. It then leaves a layer of protection behind on every surface.
While the threat of the pandemic is mainly over now, there are still businesses using this cleaning service. Many businesses use antiviral disinfectant cleaning services to protect their staff from colds and the flu during the winter and allergies and hay fever in the summer months. It can greatly reduce the number of sick days your staff have and improve their working environment.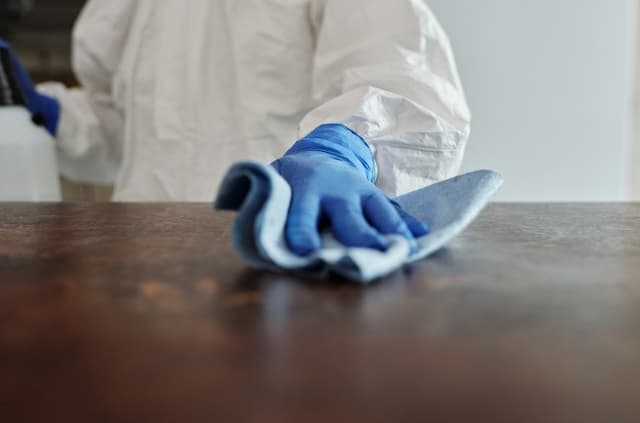 Retail cleaning services
Shops are expected to have a high level of cleanliness. It is something that many of us take no notice of when we enter a shop unless it is dirty, and then everyone notices it.
Cleaners clean a variety of retail spaces and commercial businesses across London and can clean yours too.
Cleaning service providers can create a commercial cleaning package for your retail space that works perfectly for you. So, if you only need to clean the customer-facing parts of your retail space, then you can ask the cleaners to only work when the shop is closed so that your customers can shop in peace.
Gym cleaning
Gyms can get very dirty extremely quickly if they are not cleaned. It is recommended that a gym use commercial cleaning services on a regular basis to stop the spread of viruses and bacteria.
Commercial cleaners will visit your gym during the quietest times of the day or when it is closed. Whichever works best for you. They will maintain a high level of cleanliness throughout the gym, and ensure any deep cleans are thorough enough to combat all dust, dirt, grime and bacteria.
Church cleaning services
Having a nice place of worship is very important to all of us. A calming, relaxing atmosphere is very difficult to achieve if a place of worship is not kept clean through commercial cleaning services.
Cleaners will come to your place of worship regularly and do all of the cleaning tasks for you. The cleaners can work within the church itself and any backstage areas to keep everything tidy, clean and calming for everyone. They can also provide deep cleans for churches and other places of worship if you have been unable to find a cleaner for any length of time.
School cleaning services
Cleaning a school is a very big job, but a very important job at the same time. The teachers and students need a clean and fresh environment to teach and learn in, so they can all be focused. They also need an environment free from bacteria and viruses to keep them fit and healthy.
Hiring a cleaning company for your school cleaning ensures you receive a team of professional and highly-trained cleaners for the whole cleaning job. The cleaners will clean your school on a daily basis and perform all daily cleaning tasks like vacuum cleaning, dusting and wiping the desks.
It is a good idea to get a deep clean during the school holidays to get the school ready for the students and teachers to return.
Car showroom cleaning
Car showrooms are some of the cleanest places on the planet. They have a very open, light and vibrant atmosphere, and this can be a real challenge to keep clean. It is not enough to simply sweep and mop the floors. Every aspect of a car showroom should be cleaned correctly each day to ensure that every customer has an excellent experience.
The cleanliness of a car showroom says a lot about the business, which is why commercial cleaning services are ever so important.
Restaurant cleaning
From work parties to kid parties and first dates to 50th anniversaries, restaurants see thousands of people come through their doors every year. Thousands of people expect to eat in a very clean and tidy restaurant.
Keeping a restaurant clean and tidy when you have so much foot flow, though, is not an easy thing to do at all. So, let a cleaning company help you with your commercial cleaning.
Cleaners can make quick work of making your restaurant look perfect and feel hygienic for your customers. Cleaners can be arranged to come in at a time that suits you, and ensure that your restaurant is always perfectly clean and ready to welcome customers or the health inspector!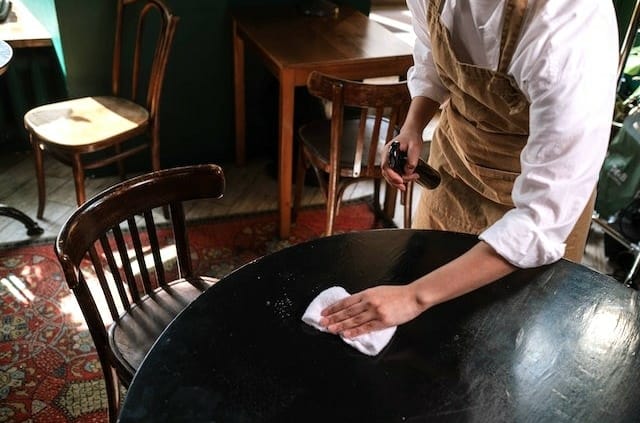 Washroom services
Washroom services are overlooked by many, but they are a must-have for any business. The service will provide hand soap dispensers, hand towel holders, sanitary towel holders, air fresheners and a great deal more.
Washroom services also can provide maintenance schedules to keep all of your washroom supplies in good working order and ensure you always have soap. You can choose a washroom package to suit you and only supply you with what you need.
If you do not currently use a washroom service, then it is definitely a must to keep your employees and customers comfortable in your facilities.
Janitorial supply services
Cleaning companies can provide janitorial supplies and cleaning equipment that your business needs for commercial cleaning. From paper towels and toilet rolls to hand soap, dishwasher tablets and bin bags. You can order a janitorial supply package for your business's cleaning supplies if you require it.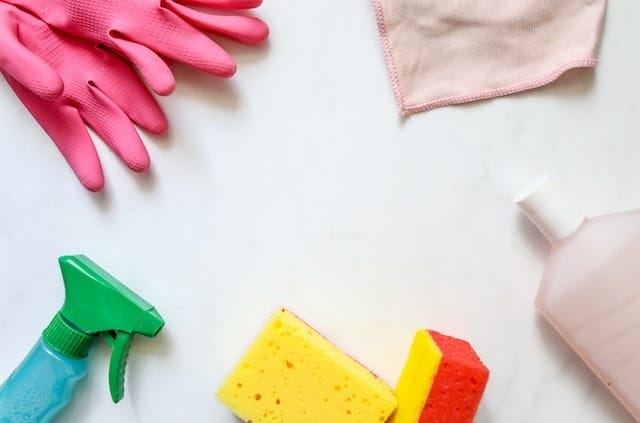 Conclusion
Hope you learned something about the types of cleaning on our list. If you have any questions about the types of cleaning mentioned here, you can further explore the Cleaning Express website.
The Cleaning Express customer service team is there to help too. Give them a ring, and someone can talk you through the perfect professional cleaning service for your home or business, or we can tailor one to suit your needs perfectly.
FAQ
What are the 3 types of cleaning
The 3 types of cleaning:
Regular cleaning: weekly or bi-weekly cleaning sessions that usually involve hoovering, mopping, dusting, and dishwashing.
Deep cleaning: full deep clean of a home or office that targets important areas of the home such as the kitchen and bathroom.
End of Tenancy cleaning: similar to a deep clean but follows a strict checklist approved by a landlord.
What are the two major types of cleaning
The two major types of cleaning are domestic cleaning to help people with their regular cleaning tasks and commercial cleaning for offices to help maintain a clean and tidy work environment for office staff.
What are the types of commercial cleaning services
Regular office cleaning
Office deep cleaning
Anti-viral
Retail
Gym
Church
School
Car showroom
Restaurant
Washroom
Janitorial supplies
https://cleaning-express.com/wp-content/uploads/2019/07/Cleaning-Express-Logo-Full-Size-300x87.png
0
0
Klaidas Kavaliauskas
https://cleaning-express.com/wp-content/uploads/2019/07/Cleaning-Express-Logo-Full-Size-300x87.png
Klaidas Kavaliauskas
2023-03-16 09:57:37
2023-07-11 21:14:27
21 Types of Cleaning Services – What they offer