How to clean silver at home
Our cleaning customers often ask us whether we have any cleaning tips for how to clean silver at home. Cleaning silver at home isn't too difficult, and with these silver cleaning tips, it has never been easier. Especially as most of the cleaning tips below require items that you likely already have in your cupboards. So grab your silver cutlery, tableware and jewellery and find out the best ways how to clean your tarnished silver at home below.

Aluminium foil and laundry detergent
This silver cleaning hack is perfect for slightly tarnished silverware and silver jewellery. It's very simple just line a pot or a bowl with aluminium foil and add hot water. Add a tablespoon of laundry detergent (liquid) and stir until mixed. Drop all your silver into the bowl and leave for a minute. Take your silver out using kitchen tongs, rinse it with warm water and let it dry on a paper towel. The tarnish on the silver will be gone, and a natural shine will have been achieved.
Cleaning silver with Vinegar
Using vinegar in your sliver cleaning routine is a great way of speeding up the cleaning process. Even the most tarnished pieces of silverware can come back to life just by using vinegar. The combination of bicarbonate of soda, aluminium foil and vinegar make for a deadly foe to tarnish and will leave your silverware looking beautiful once more. However, vinegar is powerful stuff, so reserve it for your most tarnished pieces.
Bicarbonate of soda and aluminium foil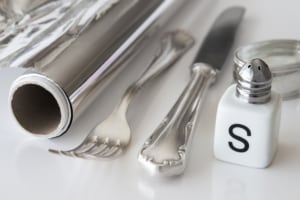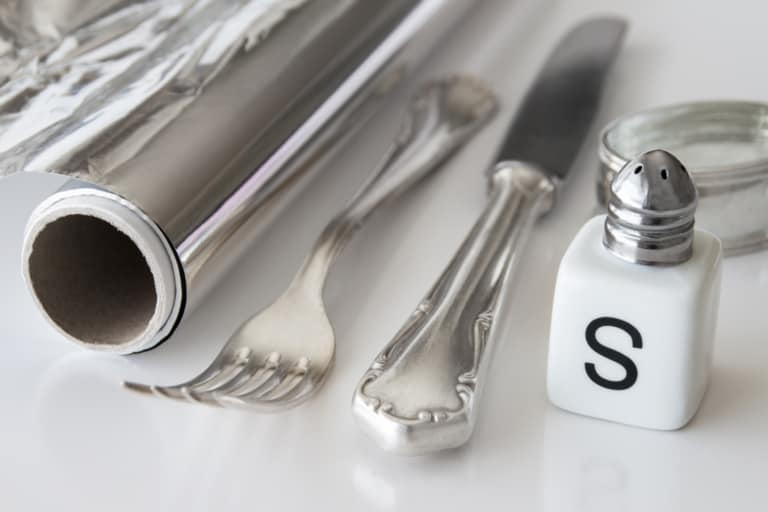 This silver cleaning tip is one of the best to have in your arsenal. You can use baking soda in so many cleaning tasks. Still, it works particularly well for cleaning silver cutlery, candlesticks and tableware. You will require to cover the bottom of a baking pan with foil making sure the shiny side is up. You'll want to use ceramic or glass cookware for this and not metal. This prevents any unwanted chemical reactions. Then fill with water and baking soda. For every gallon of water, you need about 1.5 tablespoons of bicarbonate of soda. Then bring this mixture to the boil and pop your tarnished silver in for 15 seconds. Remove the silver using tongs and leave it on a paper towel to cool down. Repeat the process to fully remove heavily tarnished silver. However, this is a fantastic silver cleaning method for larger items. You can, of course, use a smaller baking tin and a smaller mixture of water and bicarbonate of soda for small silver items.
Water and cornflour
If your silver has lost its shine, water and cornflour can be used to restore it. Just make a thick paste with cornflour and water and apply it to your silver items. Then rub the items off with a towel to polish the surface. This will easily restore the shine to silver jewellery and silver cutlery.
Lemon juice and olive oil
This silver cleaning technique is perfect for a quick spruce up of your silver jewellery and tableware. Mix one teaspoon of olive oil with 125ml of lemon juice. You will need to dip a cloth into the earlier made mix and polish your silver. Once you achieve a wonderful shine, rinse and allow to dry.
Hand sanitiser
Yes, you can clean silver at home using hand sanitiser too! As a lot of us have a lot more hand sanitiser around nowadays, it offers a quick solution if you need to polish a silver ring on the go. Squeeze a small amount of hand sanitiser onto a soft paper towel and gently rub your jewellery. This will remove any tarnishing and bring back the shine of your silver again. You shouldn't use hand sanitiser on any jewellery that is encrusted with mineral stones as some of the ingredients in hand sanitiser may damage the stones.
Vodka
You can use vodka as a soaking solution for your silver. This method won't remove heavy tarnish, but it does a good job of bringing lightly tarnished silver back to life. Just pop your vodka in a cup and soak your silver for about 5 minutes. Then dip a cloth into the mixture, remove your jewellery and wipe it. This silver cleaning trick is very easy, and it gives good results.
Beer
Pour some beer into a cup and let your silver soak in it for about 10 minutes. Then, remove your silver and rub with a clean cloth. This silver cleaning method is a very well-known trick, and it works surprisingly well. Sure, it won't get rid of very heavy tarnish, but it can certainly bring silver back to life if it is lightly tarnished.
Bicarbonate of soda and water
As we said, bicarbonate of soda is one of the greatest cleaning products to have in your home. If your silver jewellery has stubborn, built-up tarnish, make a thick paste from bicarbonate of soda and lukewarm water. Apply the paste to any tarnished spots and leave it for 3 minutes. Then gently rub the paste to remove it. Use a soft toothbrush to reach into small and hardly reachable areas or it can also be done with a paper towel. Rinse your jewellery in cold water to remove the rest of the paste and then buff with circular motions for a lovely polish.
Vinegar and Bicarbonate of Soda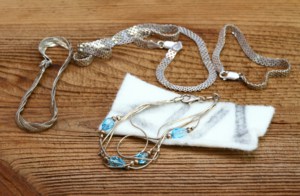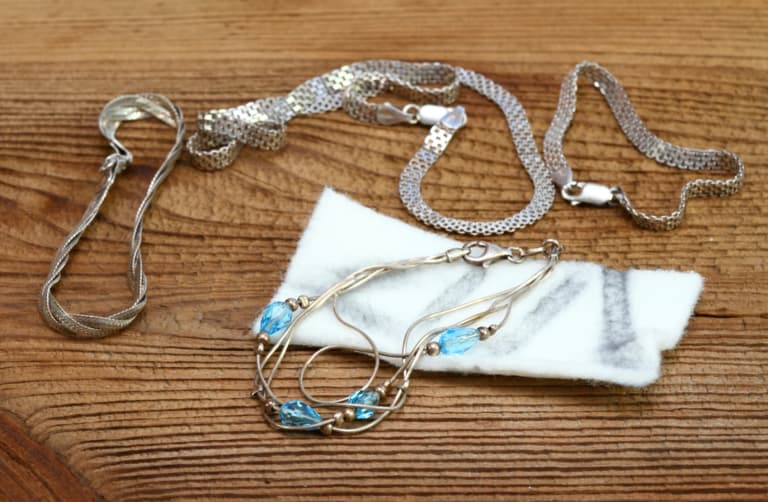 If you've used the bicarbonate of soda and water trick above, but the paste hasn't provided the shiny silver you were after, it's time to bring in the big guns. Replace the water with vinegar in your paste. The vinegar will remove heavy tarnish, and the bicarbonate of soda will lightly buff your silver to a wonderful shine!
We hope these tips on how to clean silver at home help you remove tarnish and bring the shine back to your silver jewellery and tableware.
More cleaning tips
To find our more about our cleaning services from Cleaning Express, give us a call or send us a message via website or facebook.
https://cleaning-express.com/wp-content/uploads/2019/07/Cleaning-Express-Logo-Full-Size-300x87.png
0
0
Michael Bogoyavlenskiy
https://cleaning-express.com/wp-content/uploads/2019/07/Cleaning-Express-Logo-Full-Size-300x87.png
Michael Bogoyavlenskiy
2020-12-14 22:18:02
2022-12-10 22:03:57
How to clean silver at home