Deep cleaning brings a home back to life. It is the ideal way of keeping your home clean and tidy despite how vigorous your normal cleaning routine may be. We're exploring deep cleaning below, how often you should do it, what should be included in a deep clean and more. We'll offer expert advice about deep cleaning to help you make the most of your deep cleaning sessions.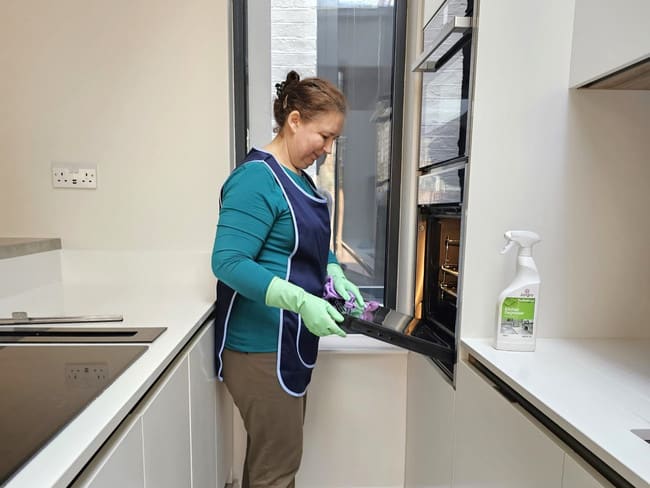 What is deep cleaning?
A deep cleaning is a very in-depth cleaning process that removes all of the dust, dirt, pet hair, bacteria and grime from every surface in your home. During a deep cleaning session, every part of the home is tackled.
During a normal cleaning session, you or your cleaner likely won't move the furniture when vacuuming, for example. This speeds up the cleaning process while ensuring every visible surface is nice and tidy. During a deep clean, though, furniture will be moved, ornaments will be carefully moved to dust shelving, and kitchen appliances will be moved to clean underneath them.
It is best to think of a usual cleaning session as a surface-level cleaning and a deep clean as a thorough cleaning of your entire home.
Please read our article on the difference between a deep clean and end of tenancy clean
Why you should deep clean your house
While regular cleaning sessions keep your home looking good, deep cleaning ensures that all bacteria, grime, pet hair and dust are removed from the property. Regular cleaning sessions do a good job of keeping these things at bay on the surfaces that we can see, but deep cleaning gets into the cracks, under cabinets and furniture to remove everything.
Deep cleans, then, are very important. If you have a very good regular cleaning schedule or a good quality cleaner, then your home may not look too different after a deep clean. However, it will smell fresher and keep dust, dirt, grime and bacteria from lurking in all the areas commonly missed during a regular cleaning session.
How often should you deep clean your house?
If you have a very good regular cleaning schedule or you use a good quality cleaner for your regular domestic cleaning, a deep clean should happen once or twice a year. If your cleaning schedule isn't quite as vigorous or you have pets or kids, a deep clean every three to four months will keep your home looking its best.
Typically, homes with more clutter require deep cleaning more often. This is because clutter isn't usually moved during a regular cleaning session. This allows dust and dirt, as well as bacteria, to build up quickly. So, if you have a lot of ornaments or kid toys in the home, a deep clean every two to three months might be best.
Remember, a deep clean will help you manage the dust, dirt, grime and bacteria in the home, but it will also help with any smells and odours too. So, if you have pets, a deep clean can completely rid your home of smells and help you prevent them from returning. So, if you have a lot of pets, the more deep cleans you have per year, the more beneficial it will be to how your home looks and smells.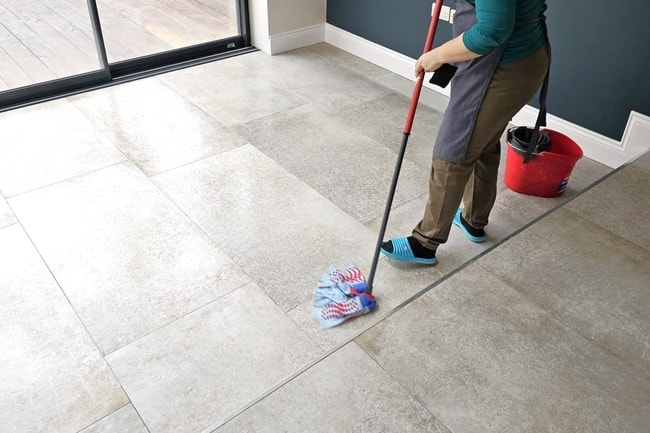 What is included in a deep house cleaning?
Deep cleans are extremely thorough. The process ensures that everything part of a property is cleaned correctly. As a result, the list of what is included is very thorough, but here is an overview of what to include in your deep clean:
Hoovering and mopping of all floors
Vacuuming under furniture and carpets
Dusting skirting boards and walls behind furniture
Dusting all shelves and removing all ornaments, books and photos
Cleaning the insides of ovens, microwaves, fridges and freezers and other kitchen appliances
Wipe and disinfect behind the toilet seat and inside the toilet bowl
Remove soap scum and limescale from shower doors, taps and shower heads
You may also wish to hire a carpet cleaning machine or add carpet cleaning services to your deep cleaning if you are using a professional cleaning company. This will bring your carpets back to life. It will improve the colour of your carpets, remove any lingering pet hair and get rid of smells.
Deep Cleaning services
If you're in London and a deep cleaning session sounds like a lot of hard work that you don't have time to do, Cleaning Express can help. Our expert cleaners are fully trained in all aspects of deep cleaning, and we can bring your home back to life quickly.
Our cleaning team can make quick and thorough work of your deep clean, and we have carpet cleaning, upholstery cleaning, window cleaning services and more to help you make the most of your deep cleaning session.
https://cleaning-express.com/wp-content/uploads/2019/07/Cleaning-Express-Logo-Full-Size-300x87.png
0
0
Klaidas Kavaliauskas
https://cleaning-express.com/wp-content/uploads/2019/07/Cleaning-Express-Logo-Full-Size-300x87.png
Klaidas Kavaliauskas
2023-05-25 13:48:12
2023-05-26 14:23:07
What Does Deep Cleaning Include?