What is the 20 Minute Rule in Cleaning?
Many of us find cleaning our homes to be a chore (quite literally!). Whether we find it boring, time-consuming, or simply don't have enough hours in the day, it can be helpful to find new ways to approach it.
Well, this is where the 20-minute rule comes in. Below, we'll cover what it means and how it can benefit busy people or those who just don't enjoy cleaning. Read on to find out.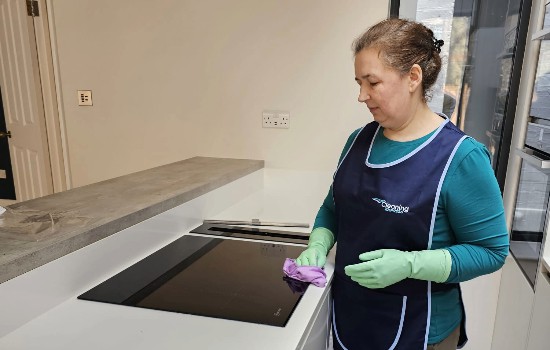 What exactly is the 20 Minute Rule in Cleaning?
The 20-minute rule in cleaning is where you take on a cleaning task for 20 minutes and then have a break. It's as simple as that! Also known as the 20/10 rule, it's recommended that you take a 10-minute break after your cleaning blast.
Although it's unlikely you'll finish most jobs in the first 20 minutes, the point is to break them down into manageable pieces so they don't feel as daunting. Plus, it means you can chip away at things when you have some spare time rather than setting aside a whole day of your precious weekend!
Who Should Use the 20 Minute Cleaning Rule?
In theory, anyone can use the 20-minute cleaning rule. But it's probably best for:
Busy people – especially those who have to handle all the household cleaning on their own
Families – having kids means more mess and a lot less time
Of course, it's also ideal for anyone who just doesn't enjoy cleaning because it makes it more manageable. So, if you're someone who puts off many cleaning jobs, try the 20/10 rule and see if it'll make things easier.
How Does the 20 Minute Rule Work?
The basics of the 20/10 rule are pretty simple. As mentioned, you clean for 20 minutes and then take a break or move on to something else. But to really take advantage of it, you should try to break larger tasks down into smaller parts, as this gives you a clearer sense of achievement.
For example, let's say you need to clean the bathroom. The overall job involves cleaning the toilet, the shower, and the sink, along with emptying the bin, wiping down surfaces, etc. Combined, all this could take a good few hours if you need to do a deep clean.
So, break the jobs down. Spend 20 minutes cleaning the toilet, then take a break. Repeat with the shower, the sink, and so on. While you might not get everything done on the same day, you could get bits done between other jobs.
What Are the Benefits of the 20 Minute Cleaning Rule?
The benefits of the 20-minute cleaning rule should be fairly obvious. It basically all comes down to shifting your perspective of how (and when) cleaning is done. Breaking larger jobs down into their smaller parts makes them feel more manageable, in turn reducing the workload and associated feelings of stress.
Another important part is the knowledge that you'll have a break after you've finished your 20-minute spurt. This helps keep motivation high, as you know you'll be rewarded for the job after. What you do with your 10-minute break is up to you, but consider using it as an excuse to have a quick relax.
With a bit of practice, you should find you can get a lot done in 20 minutes. It might not seem like much time, but you should end up adjusting your cleaning speed to the timeframe.
Final Thoughts
The 20-minute rule is definitely worth trying if you're busy, have a family to care for, or simply just don't enjoy cleaning. Breaking jobs down into quick bursts can help you feel like you've achieved a lot in a very short space of time.
But if you still have a lot of cleaning to do, even with the 20-minute rule, get in touch with Cleaning Express. Our domestic cleaning services in London can help take the load off, freeing you up to concentrate on things you enjoy.
Wondering if you have the budget for a cleaning service? Read our article on How much does a cleaner cost?
We have loads of highly-trained, fully insured cleaners who can help get your home sparkling again while taking the burden of cleaning out of your weekly routine. If you live in London and would like to know more, reach out to see how we can help.
Also read: what can a cleaner do in 2 hours?
https://cleaning-express.com/wp-content/uploads/2019/07/Cleaning-Express-Logo-Full-Size-300x87.png
0
0
Klaidas Kavaliauskas
https://cleaning-express.com/wp-content/uploads/2019/07/Cleaning-Express-Logo-Full-Size-300x87.png
Klaidas Kavaliauskas
2023-11-19 12:31:21
2023-11-19 12:31:21
What is the 20 Minute Rule in Cleaning?