Communal Area Cleaning Prices UK
Communal areas in flats and other buildings can often be ignored when it comes to cleaning. After all, they're shared areas, so it can be easy to overlook cleaning, as it's not something anyone really wants to do.
The best option is usually to hire an external cleaning service to take care of the job. But what are standard common area cleaning prices UK? Read on to find out.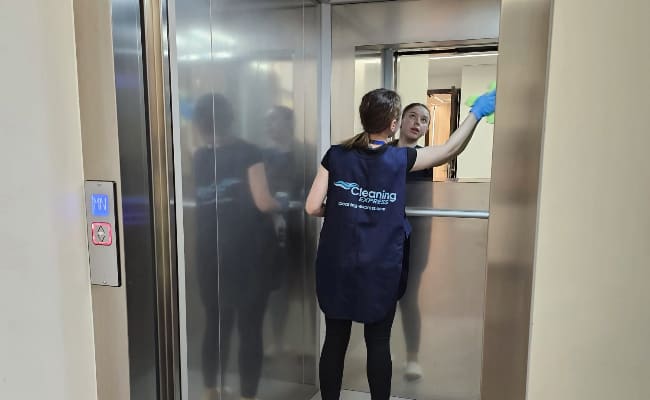 What are Communal Area Cleaning Prices in the UK?
Prices for cleaning common areas in buildings can range from £10-£20 an hour, or £30 or more per visit depending on how the service charges you. In London, you can expect the hourly cost to be higher at £25-£35 an hour.
Unsurprisingly, you can expect to pay more for cleaning services in cities than you would in rural areas. If your commercial space is in an urban area, expect to pay £20 or more an hour for cleaning. However, you'll probably have more choice than those in quieter areas, allowing you to shop around for the best value for money.
But remember, the cheapest option often won't be the best! Cleaning services aren't something you should try to save on, as the difference will become fairly obvious once you see the quality of the job.
Factors Affecting Cleaning Cost
There are lots of factors that can affect the price of communal area cleaning, such as:
Size of the area
Extent of work that needs doing
Specific services that might not be covered in a standard cleaning
Frequency of the work (more regular cleaning means less needs doing per visit)
Number of cleaners used per job – it's usually better to have several cleaners come per visit to get the job done quicker
For example, you'll find that you'll pay less for getting carpets hoovered than you would for, say, window cleaning in a large stairwell. Ideally, you'll want to find a cleaning service that provides you with an estimate before starting work.
What Communal Areas are Covered?
Communal areas are typically spaces in shared housing buildings, although the specifics will depend on the type of building. It's a term that applies to both domestic and commercial spaces, meaning shared areas in office blocks are covered too.
Typical communal areas include:
Stairwells
Reception areas
Lifts
Shared spaces in HMOs (kitchens, living areas, bathrooms, etc.)
The short answer is that a communal area is any space used by more than one building resident. It's important to keep these areas clean for hygiene reasons, but also to impress any visitors to the building. After all, a messy reception area doesn't reflect too well on the company managing the building!
What Services are Covered?
The extent of the services offered for communal area cleaning is theoretically endless because it depends on the area itself. As standard, you can expect hoovering, dusting, mopping, and wiping down surfaces.
On top of this, you can often request more in-depth jobs, such as internal window cleaning, post box organisation, and deep cleans of areas like kitchens and bathrooms. It's vital that these areas are kept clean due to the impact they can have on the overall hygiene levels in the building.
Be sure to discuss your needs with your chosen cleaning company, as they can have a big impact on how much the job will cost. For example, a standard hoovering of stairwells shouldn't take more than a few hours. But if you throw in window cleaning and other services, you can expect it to take several cleaners half a day to do properly.
Final Thoughts
Communal area cleaning services are a must for any property manager that wants to make a good impression. Think of it as an essential business cost, much like any other maintenance job. Thankfully, compared to many of these, communal area cleaning is fairly cheap!
If you're based in London and need communal areas cleaned in your building, get in touch with Cleaning Express. We have an army of cleaners ready to get the job done quickly, and all our staff are highly trained and fully insured. Better yet, we make sure our costs are fully transparent, so you know exactly how much you'll pay. Contact us today to learn more and to see how we can help.
Also read: How much does office cleaning cost?
https://cleaning-express.com/wp-content/uploads/2019/07/Cleaning-Express-Logo-Full-Size-300x87.png
0
0
Klaidas Kavaliauskas
https://cleaning-express.com/wp-content/uploads/2019/07/Cleaning-Express-Logo-Full-Size-300x87.png
Klaidas Kavaliauskas
2023-11-11 14:06:18
2023-11-12 10:11:12
Communal Area Cleaning Prices UK