Deep cleaning a house isn't something that happens very often. As such, it's a longer and more thorough job than standard domestic cleaning. But what does this do to the price, and is it worth paying?
In this article, we'll look at how much deep cleaning a house costs in the UK. So, whether you need end-of-tenancy cleaning, spring cleaning, or prep before your baby arrives, you'll have all the information you need by the end of this article.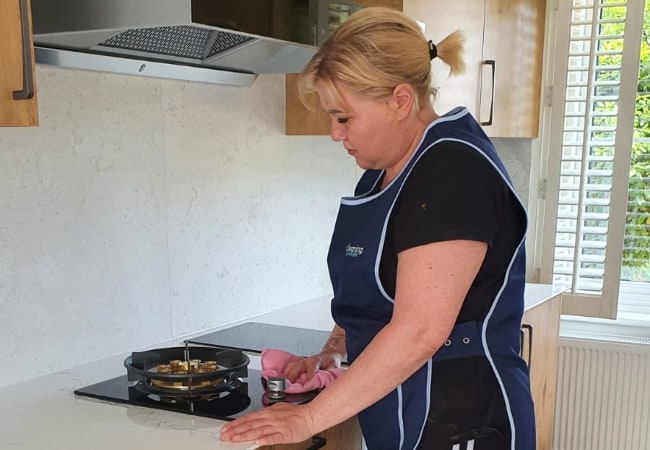 What Does Deep Cleaning Include?
Deep cleaning involves more thorough cleaning than a normal job. In short, deep cleaning covers everything that you might normally put off. It also includes end-of-tenancy and moving-out jobs, such as carpet cleaning, to get the property back into perfect condition for the next people.
Curious to learn more? Read our article on What does deep cleaning include?
One Off Deep Cleaning Prices
Deep cleaning a house takes quite a bit more work than standard cleaning, which is reflected in the price. According to Check a Trade, the average cost for deep cleaning a house is £14.50 an hour.
Bear in mind, though, that this price will change depending on where you live. For example, it could drop to £10-£11 an hour in rural areas or jump to £18-£19 an hour in big cities. In London, you should expect to pay the highest prices.
Based on an hourly cost, expect a deep cleaning job to take a day or two. Alternatively, look for a service that charges a flat rate based on their inspection of the job. This may work out cheaper in the long run.
Here are some of our deep cleaning prices here at Cleaning Express:
| | |
| --- | --- |
| Property Type | Cost |
| Studio | From £195 |
| 1 Bed, 1 Bath | From £234 |
| 2 Bed, 1 Bath | From £273 |
| 2 Bed, 2 Bath | From £312 |
| 3 Bed, 1 Bath | From £312 |
| 3 Bed, 2 Bath | From £390 |
| 4 Bed, 1 Bath | From £468 |
| 4 Bed, 2 Bath | From £546 |
Factors Affecting Deep Cleaning House Prices
Regardless of whether you go for an hourly price or a flat rate, expect there to be some variation in the final price. Below are some of the factors that'll impact the cost of deep cleaning, so expect to pay more if you're ticking some of these boxes.
Property Size
A larger property will obviously cost more to clean than a smaller one. Similarly, expect the number of bathrooms you have to affect the price. If you need a particularly big house deep cleaned, it might be best to go with a flat rate price to get better value for money.
Pets or Children
Again, expect to pay more if you have pets or kids, or both. As any parent knows, kids can be fairly messy, and you also need to factor in the sheer amount of stuff they probably have.
Having pets is a fairly obvious factor, too. Most pets will shed hair, which can get into even the smallest crack. Unless the pets are fish or a hamster, expect them to impact the cleaning cost.
Location
This is touched on above, but those living in cities should expect to pay more for deep cleaning services. It's not unique to cleaning; it's true of pretty much any service you could need. Those based in London should expect to pay even more.
Key Takeaways
The bottom line is that deep cleaning is more expensive than standard domestic cleaning. Luckily, it's not something you'll need very often (usually once a year at most), which makes the cost seem more reasonable.
Make sure you shop around for some deep cleaning quotes before choosing a service. And remember, cheapest isn't always best!
Cleaning Express Deep Cleaning Services
Cleaning Express offers high-quality and efficient deep cleaning services in London. We'll provide you with a free quote after discussing your needs, and charge a flat rate for one-off deep cleaning services.
We bring all our own products and can get your property sparkling again in no time! Get in touch to learn more or to book us in for an estimate.
Also read: How much does a cleaner cost?
FAQs
How much does it cost to deep clean a 3 bedroom house UK?
It's impossible to give an exact price for deep cleaning a 3-bed house, as it depends on numerous factors. However, the job could take anywhere from 9-12 hours, so you could expect it to cost anywhere from £130 to more than £500 based on where you live, the extent of the job, and so on.
How much is a deep clean of a kitchen?
Deep cleaning a kitchen obviously won't cost as much as a full house. Even so, it could take up to 5 hours depending on how much needs cleaning. You could expect to pay £50-£150 for the work.
How much should deep cleaning cost?
Deep cleaning should cost more than normal domestic cleaning because there's a lot more work involved. You should expect the price to be 50% or more greater than domestic cleaning fees.