Can I Pay Someone to Tidy My House?
Many of us don't have the time to do all the housework jobs we'd like. As a result, many tidying and organisation tasks get put on the back burner, and often don't get done.
This might lead you to ask, can I pay someone to tidy my house? The short answer is yes, but read on to find out the options so you can make an informed decision.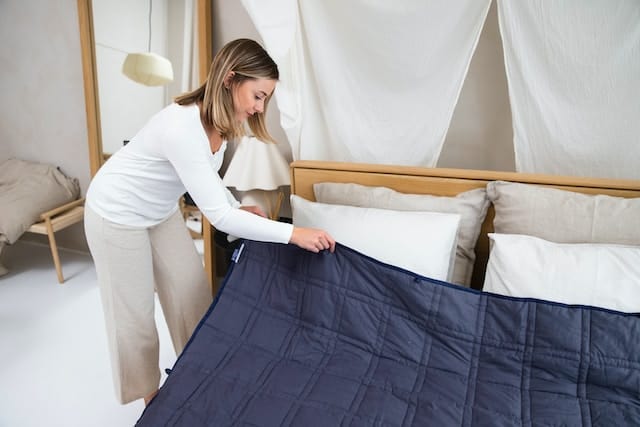 Answered: Can I Pay Someone to Tidy My House?
You absolutely can pay someone to tidy your house, but it helps to figure out what you mean by this. There are different kinds of professional help you can arrange for home tidying, including:
Domestic Cleaner
As the name suggests, this is someone who comes to your home to clean. Their jobs might include hoovering, washing up, dusting, etc. Generally, you wouldn't expect a cleaner to take care of larger organisational tasks.
Housekeeper
A housekeeper, on the other hand, does things outside of standard cleaning jobs. This might include running errands, childcare, and organisation tasks such as tidying wardrobes, clearing clutter, and so on.
Professional Organiser
Again, this is a pretty self-explanatory title. Professional organisers are less common, but they focus less on cleaning and more on helping you deal with clutter. This might include dealing with old clothes, paperwork organisation, and just general home decluttering.
Factors to Consider When Hiring a Home Tidier
To decide what services you need, consider the following factors:
What do you actually need done? If you can handle your own cleaning but need help with larger tidying jobs, a housekeeper or organiser might be best.
Would you rather just let someone else handle everything? A housekeeper will probably be your best option.
What's your budget? A cleaner is usually the most affordable option, but you often won't need an organiser more than once or twice.
There are obviously other questions you can ask, but these are the most important when narrowing down your selection.
Are you unsure if a professional tidying service is for you? Read our article of types of cleaning services.
Pros and Cons of Professional Home Organisation
It's also worth weighing up the pros and cons of hiring someone to help tidy your home. Generally, there aren't many downsides, but it helps to know them so you can make an informed decision.
Pros
Takes away a lot of the stress associated with home cleaning.
The variety of available services means you should easily find what you need.
If you're short on time and want a tidy home, hiring a professional can be well worth the money.
As with any specialist job, professional cleaners and tidiers are very good at what they do.
Your home will always be ready for guests, and you'll have plenty more time to spend with your friends and family.
Cons
Although cleaners hired through an agency will be vetted, letting strangers into your home can often be difficult.
You might find that jobs aren't done how you want them. But this can usually be overcome with a bit of feedback.
Is Professional Tidying Worth it?
So, based on all this, is professional home tidying worth it?
The short answer is that, if you have domestic jobs that you need to get on top of, hiring a professional can be worth the money. If you need professional home help, look no further than Cleaning Express.
We offer both domestic cleaning and housekeeping services in London to assist with pretty much any tidying job you need. All our staff are highly trained, insured and vetted so you can feel safe letting them into your home. Contact us to find out more and see who we have available in your area.
https://cleaning-express.com/wp-content/uploads/2019/07/Cleaning-Express-Logo-Full-Size-300x87.png
0
0
Klaidas Kavaliauskas
https://cleaning-express.com/wp-content/uploads/2019/07/Cleaning-Express-Logo-Full-Size-300x87.png
Klaidas Kavaliauskas
2023-10-24 19:41:50
2023-10-24 19:41:50
Can I Pay Someone to Tidy My House?