What Is Commercial Cleaning?
Commercial cleaning is really important for any business premises, but what is commercial cleaning and what does it mean for your business? Regular cleaning ensures a business looks its best and that employees also have a safe and healthy environment to work in.
Now, there are loads of commercial cleaning services available, and we are going to look at those cleaning services below. We are also going to touch on commercial cleaning vs domestic cleaning to see the difference between the two. So, let's dive right in, shall we?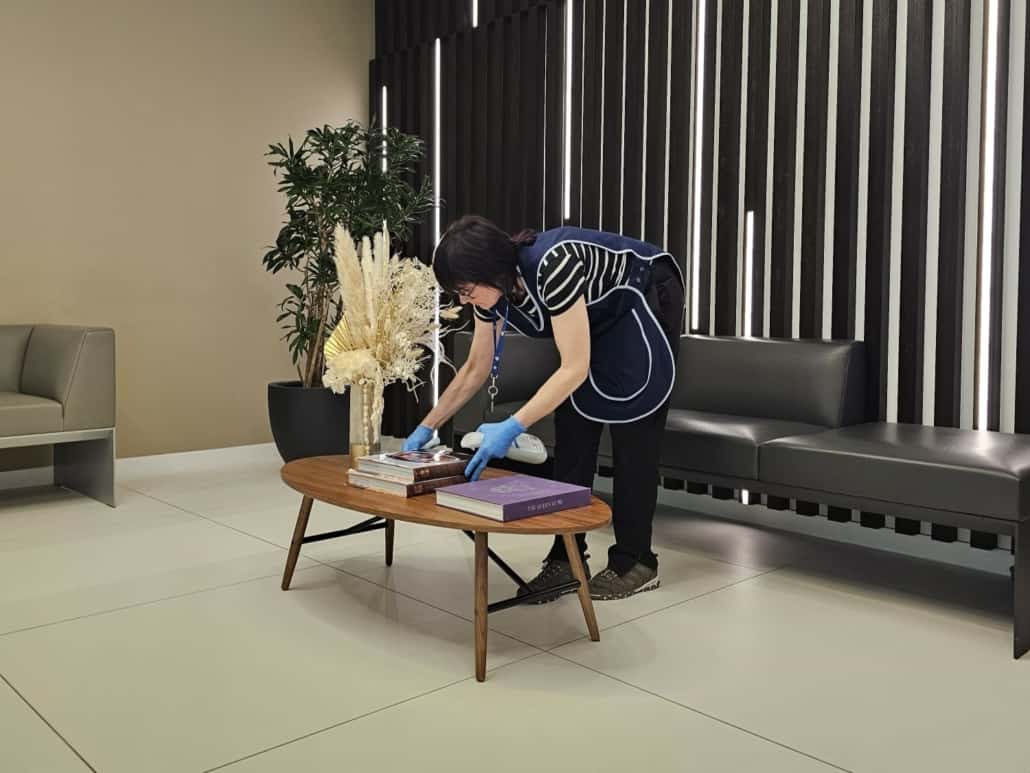 What Exactly is Commercial Cleaning?
Commercial cleaners visit businesses, usually once a day, although this can depend on the type of business and the cleaning services it needs. During the visit, the cleaners will perform all of the daily cleaning tasks that the company needs. Regular commercial cleaning can include:
Hoovering
Emptying bins
Tidying and cleaning kitchen spaces
Cleaning internal glass
Sweeping and mopping all hard floor
Using floor polishers
and more.
Commercial cleaning companies ensure that a business premises looks its best every day. And ensures that employees can do their jobs correctly and safely in a good environment.
Types of commercial cleaning services
From industrial cleaning services to office cleaning, there are loads of different commercial cleaning companies offering lots of different services. While the cleaning equipment may change in some spaces, the objective is the same; to keep the space as clean as possible for staff and customers.
Here are a few different types of commercial cleaning services:
Office cleaning
It is vital that an office space stays as clean as possible. Whether that business is inviting new clients into the office and would like to show their business off in the best light possible, or they want to create a light, bright and vibrant atmosphere to help their staff focus on the job.
All of this can be achieved with regular cleaning sessions from the right commercial cleaning company.
During an office cleaning session, the cleaners will perform all daily tasks that are needed. Emptying bins, hoovering, wiping the desks, cleaning bathrooms and food preparation areas, etc.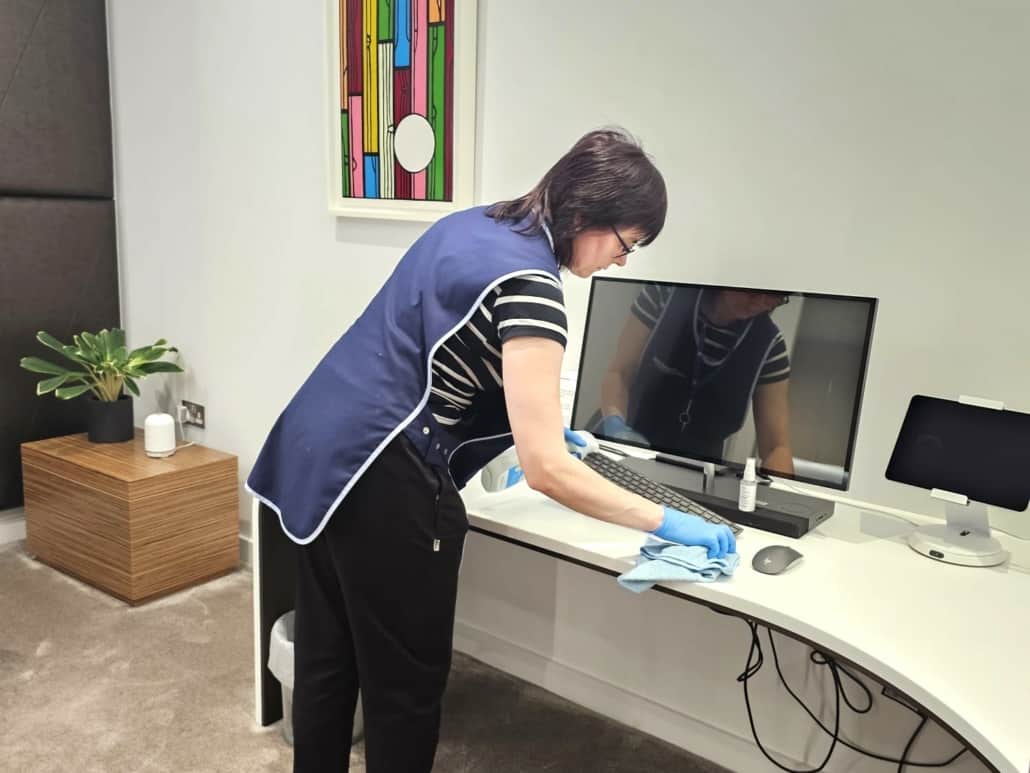 Hotel housekeeping
Many hotels in the UK and elsewhere rely on good quality commercial cleaning companies to provide professional hotel cleaners for all of their cleaning needs.
These cleaners are responsible for preparing the rooms for new guests, keeping guests' rooms tidy, changing bedding, emptying bins and cleaning bathrooms. As well as ensuring all communal spaces are nice and tidy.
As you can imagine, keeping a hotel tidy is a big job, so typically, hotels have a professional cleaning company on call throughout the day, offering housekeeping services whenever they need them.
Window cleaning
Most cleaning companies will clean the internal side of a business's windows, but some won't have the cleaning equipment or experience to provide external window cleaning services. However, the external part of your business is just as important as the inside of it.
To make the best first impression on guests, customers and employees, the outside of your business should be just as clean and tidy as the internal space. This is where good quality cleaning methods can really help.
Medical facility cleaning
A commercial cleaner can clean a wide variety of businesses during the week. However, one of the most challenging has to be medical facilities. These need thorough cleaning during every visit to ensure that everyone using the space is as safe as possible. So, medical facility cleaning is often much more like deep cleaning than the regular cleaning that most businesses receive.
This type of cleaning can include the usual stuff of hoovering and mopping floors, for example, but may also include cleaning medical equipment, beds and more.
Gym cleaning
Gyms and leisure centres can hold a lot of bacteria and can spread viruses very quickly. As a result, a strict and consistent cleaning plan must be put in place. Gyms should be cleaned every day and have a deep cleaning every month to stop the spread of viruses while making sure that the space can be enjoyed by everyone.
Retail cleaning
While some shops rely on their staff to keep spaces clean, some businesses hire retail cleanersto ensure that the space is exactly what their customers expect. Retail spaces must be an exceptionally clean environment for customers to enjoy; if not, people may think twice about visiting that shop again.
School cleaning
Of course, schools and colleges must be kept as clean as possible to protect the students and staff from bacteria spreading and to ensure a safe environment to learn in. This means that school cleaners will clean every day but also provide deep cleaning services to schools during the school holidays to maintain a high level of cleanliness.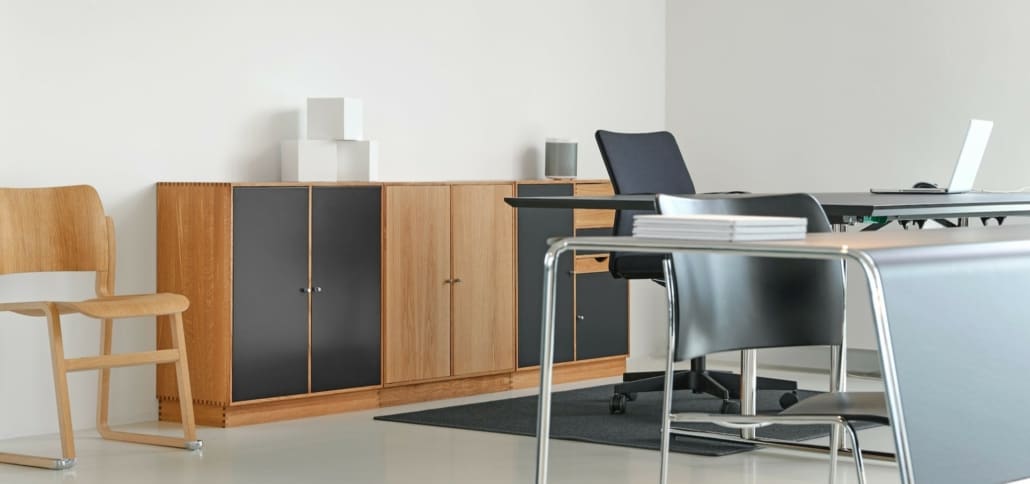 Why is commercial cleaning important?
Commercial cleaning is an extremely important part of a successful business. Not only are you providing a tidy and clean space for your staff and customers to enjoy, but there are other factors, too, including:
Health and safety reasons
Good quality commercial cleaning plans reduce the likelihood of illness spreading around a business. This reduces sick days and keeps all of your employees safe. Cleaning services can also tidy away things that otherwise may be tripping hazards, or cleaning up hazardous waste bins, for example. There are a lot of health and safety reasons why commercial cleaning is so valuable to a business.
Good first impression
Ever been in a shop that is dusty and has bins that are overflowing? Or stayed in hotel rooms with bedding that looks like it hasn't been changed in a while? Have you been back to that shop or hotel since?
Having a clean environment for your business ensures that anyone entering it gets the best first impression possible. It says that this is a place that takes care of the small details and that can make a massive difference to potential clients, customers, staff and guests.
Prevents damage
Cleaning can prevent damage in many ways. Cleaners can notify you of any issues they see during their visit. Any maintenance issues, for example, any carpets that are lifting up or floorboards that may need attention.
Maintains commercial building
The cleaners can alert you to concerning areas of the business so that you can quickly resolve the matter, for example. Having more eyes on your business ensures that the property is maintained thoroughly. Any issues that a cleaner spots during their rounds can be passed on and solved quickly.
Improves employee productivity
A clean space can reduce sickness in your employees, which is excellent. However, it can also improve their mood and make them feel happier to be at work. This increases productivity, and so your business will benefit greatly from professional cleaning services.
Domestic cleaning vs. Commercial cleaning services
Some of the cleaning services that a commercial cleaning company provides are much the same as a domestic cleaning service. They will vacuum or mop the floors, empty the bins, tidy kitchens and bathrooms, etc.
However, commercial cleaners provide these services much more frequently than domestic cleaners. A domestic cleaner may come to your home once a week, while commercial cleaners will come to your workplace every day or every few days.
Commercial cleaning companies also have fully trained cleaners that can handle hazardous materials and follow strict disposal guidelines. They are also trained on how to complete every cleaning service that a business may need.
So, for commercial spaces like hotels, shops, restaurants and offices, the cleaning service may appear to be what a domestic cleaner does. However, commercial cleaners are also able to handle lots of other very vital parts of cleaning a commercial space.
Should you hire a professional cleaning service or get in-house cleaners?
Whether you should hire a professional cleaning company or hire in-house cleaners depends on how much cleaning is required and how often you need the cleaners to be there. If you need cleaners on-site 24/7, then having an in-house team makes sense.
However, it is often much cheaper for businesses to hire a professional cleaning team to come in when they need it. You are only paying for the cleaning sessions you receive, so this often works out cheaper than hiring a full cleaning team for the business.
Commercial cleaning services
Cleaning Express has been providing businesses in London with high-quality commercial cleaning services for many years. Our fully trained and highly skilled commercial cleaning team is here to undertake all aspects of commercial cleaning that your business needs.
Read also:
https://cleaning-express.com/wp-content/uploads/2019/07/Cleaning-Express-Logo-Full-Size-300x87.png
0
0
Klaidas Kavaliauskas
https://cleaning-express.com/wp-content/uploads/2019/07/Cleaning-Express-Logo-Full-Size-300x87.png
Klaidas Kavaliauskas
2023-04-20 11:21:04
2023-04-27 13:47:58
What Is Commercial Cleaning?