A Comprehensive Office Cleaning Checklist
An office cleaning checklist will help keep your office space clean to ensure your staff have a safe and healthy work environment.
If you are currently looking into a commercial cleaning service, below, we have all the info you need about daily, weekly and monthly office cleaning checklists.

The Importance of a Clean Workplace
Daily, weekly and monthly office cleaning ensures that your office and reception area is as clean as possible. This creates a vibrant, happy and healthy atmosphere your employees can thrive in.
Without regular cleaning, office spaces and office equipment can quickly become dirty and dusty. This means that your staff can become unmotivated to work and even unwell because of the conditions.
Potential customers can also be put off due to low cleaning standards.
Therefore, having a good cleaning policy in your office ensures that your staff are happy and healthy and that your customers see your business in the best light possible.
Daily Office Cleaning Checklist
The daily tasks of professional cleaners in your office may include the following:
Dusting furniture, chairs, desks and cabinets
Emptying all bins and removing rubbish
Spot-cleaning the entrance of your business
Cleaning all interior glass surfaces and doors
Vacuuming all carpeted areas
Vacuum hard floor surfaces
A dry mop of all hard floors
Weekly Office Cleaning Checklist
The weekly tasks of a professional cleaning crew will consist of many of the daily cleaning tasks on the office cleaning checklist above, as well as:
Dusting window sills and the tops of partitions
Removing dust and debris from door frames and thresholds
Clean and sanitise all phones
Vacuum hard floors, including hardwood surfaces
Damp mop all hard floors
Monthly Office Cleaning Checklist
The monthly cleaning tasks will include all the tasks within the daily and weekly checklists, as well as:
Dusting high surfaces and any hard-to-reach areas like shelves, ledges, ceiling fans and vents
Dusting blinds
Dusting all wooden furniture
Cleaning all light switches
Removing cobwebs
Cleaning baseboards, skirting boards, carpet edges and corners
Vacuum and clean upholstery
Please read our article on how often you need to clean the office.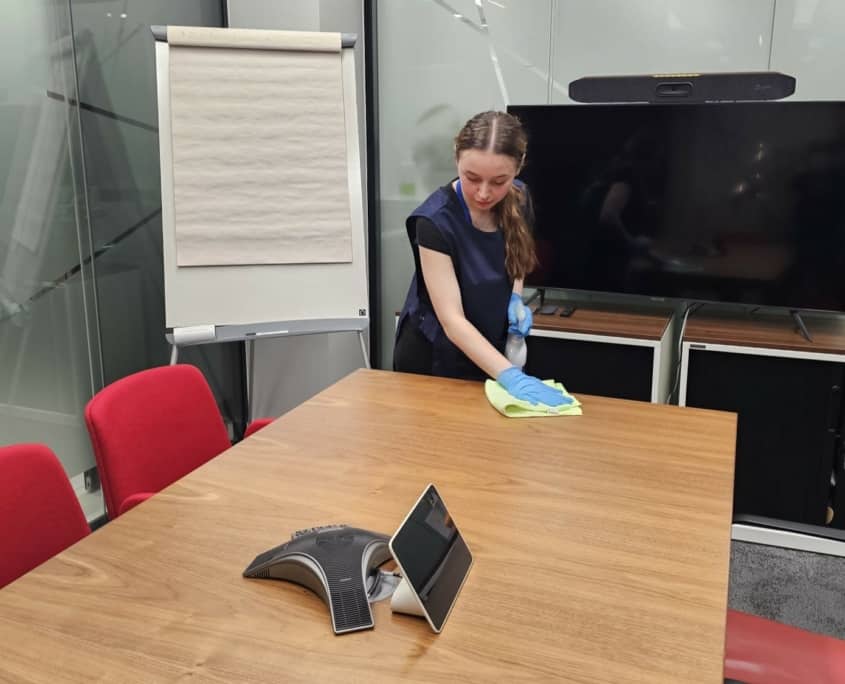 Office cleaning checklist for office desks
While most office cleaning companies ask for office workers to clear their desks of any important notes and devices, most will clean the desks too. Office desk cleaning includes:
Removing any rubbish and clutter (leaving anything the cleaner isn't sure of)
Dusting, wiping and disinfecting the desk
Emptying the bin
Dusting and wiping the exterior of filing cabinets
Cleaning the chair and armrests
Cleaning checklist for a reception area
The office reception area of your business is the first thing any potential clients see. Therefore, it is important the cleaning is done to the highest standards here. The cleaning checklist for the reception area of your building includes:
The interior of all glass windows will be cleaned
The reception desk will be dusted and disinfected
All bins will be emptied
Any coffee tables and chairs in the waiting area will be wiped and cleaned
Mop and vacuum floors
Checklist for office bathrooms
The cleaning checklist for office bathrooms will include the following.
Empty all bins
Vacuum and mop all hard floor surfaces
Clean all toilets
Wipe and disinfect all surfaces, including counters, sinks, toilets and walls
Clean and polish taps
Additional services can also be added to keep your office bathrooms fully stocked with things like toilet paper, paper towels, sanitary towels, hand soap, and more. Some cleaning companies can supply hand dryers, hand towels and more.
Checklist for office kitchens
The cleaning checklist for office kitchens includes the following:
Wiping and disinfecting table tops, counters and exterior of cabinets
Emptying bins and removing old food
Cleaning the exterior of all kitchen appliances, including microwave oven, fridge and kettle
Vacuuming any carpets
Vacuuming and mopping the kitchen floors
Sanitise and clean the sink
Read our article about the benefits of carpet cleaning in offices
If your staff have a break room, the cleaning schedule will be similar to the above and include many of the same tasks, with any additional cleaning tasks being considered.
A cleaning company can also supply janitorial supplies to keep your kitchen stocked with lots of things you may need, including garbage bins, garbage bags, paper towels (kitchen towels) dish washing liquid, disinfectant cleaners and more.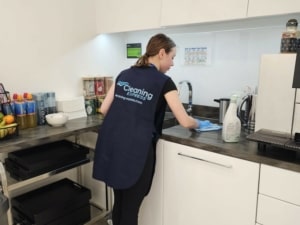 How often should a workplace be cleaned?
A workplace should be cleaned every day ideally. If not every day, then as regularly as possible. Things like the toilets, the kitchen and kitchen appliances, for example, should be cleaned every day or every couple of days at a push, but vacuuming floors can be done every week in some cases.
If your office has a lot of staff with lots of foot traffic, though, it is highly recommended you have it cleaned every day.
Cleaners can come to your office at a time that suits you, so planning your cleaning sessions ensures that your staff are not interrupted, but the cleaning will get done regularly.
If regular cleaning sessions aren't possible for whatever reason, you may want to look into office deep cleans instead.
What office cleaning supplies do I need?
The cleaning supply cupboard at your office should be stocked full of all the cleaning products that the cleaners may need. This includes:
Glass cleaner (a good quality glass cleaning spray)
Furniture polish
Disinfectant sprays
Plenty of microfibre cloths
A good quality vacuum cleaner
Mops and buckets
A floor polisher if you have large areas of hard surfaces for the cleaners to clean
If you have exterior surfaces you'd like the cleaners to clean as well, additional cleaning products for those areas will need to be supplied as well. Decking cleaner or fascia cleaning products, for example.
Office cleaning service
Cleaning Express offers high-quality office cleaning services across London at very affordable prices. Our cleaners are experts in cleaning all types of offices. We can create a complete cleaning package for your business that suits its needs perfectly. We offer daily office cleaning, office deep cleans, janitorial and washroom supplies, as well as much more. You can also read our school cleaning checklist if you want an in-depth view of school cleaning.
Read also:
https://cleaning-express.com/wp-content/uploads/2019/07/Cleaning-Express-Logo-Full-Size-300x87.png
0
0
Klaidas Kavaliauskas
https://cleaning-express.com/wp-content/uploads/2019/07/Cleaning-Express-Logo-Full-Size-300x87.png
Klaidas Kavaliauskas
2023-04-05 14:06:26
2023-07-10 15:17:20
A Comprehensive Office Cleaning Checklist