How to remove limescale from toilet bowl

Ah, the toilet, a humble place of reflection, relaxation and possibly radiation, depending on what you ate the night before! The toilet is a place that all of us will visit daily, yet many of us still struggle to keep clean even when you have a toilet brush! One of the biggest issues for any toilet in the UK, a plague on our toilets, if you will, is limescale.
Removing stubborn bits doesn't have to be difficult, though. Below we have some tips on cleaning a toilet and getting rid of pesky limescale for good. These methods work on all limescale around the home, too. So don't be afraid of grabbing some rubber gloves, taking a deep breath and fighting limescale in every room of the home! Before we get to how to remove limescale from a toilet, we first need to understand limescale. Its likes, dislikes, and why it is even in our toilets in the first place. By knowing and understanding these unsightly stains, we will be better equipped to tackle it head-on.
What is limescale?
Limescale is a chalky substance that loves to attach itself to anything it comes in contact with. From toilet bowls to glass shower screens and taps, limescale can build up on pretty much every surface that it comes in contact with.
 Limescale stains
As you likely know, limescale is in the water that we use in the home. Well, sort of. You see, calcium bicarbonate is in our water. This is a soluble chemical present in all hard water areas in the UK. Calcium bicarbonate turns into calcium carbonate over time, and it is this little creature that we know as limescale.
 Hard water supply
Around 60% of the UK is considered a hard water area, so calcium carbonate affects over half of the population. And London, where Cleaning Express is based, is no exception to this. As a result, our expert cleaners have years of experience fighting this foe and have some clever cleaning hacks to help you quickly and easily get rid of the limescale from your toilet.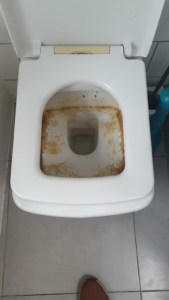 How to remove limescale from a toilet below waterline
Removing limescale from below the waterline in a toilet can be very tricky. After all, any cleaning products you add to the toilet are diluted by the toilet water. While you could turn off your water supply and let the toilet fully drain to gain access, there is an easier method that works even without removing the water from your toilet bowl.
The best limescale remover
We'd like to introduce you to two of the best cleaning products to have in your cleaning cupboard. These two cleaning products can be used separately, but when you bring them together, it is like the Avengers of cleaning! Every single home in the UK should have these cleaning products at its disposal, and they can be used everywhere limescale lives around the home. We are, of course, talking about bicarbonate of soda and white vinegar!
How to mix vinegar and baking soda
Wear gloves! To use bicarbonate of soda and vinegar to clean limescale from below the waterline, you first need to make a paste. Grab a bowl and add equal parts of bicarbonate of soda and vinegar. For this cleaning task, the more, the merrier, pour vinegar (about 1 litre) and a few cups of bicarb will work fine. Give the solution a mix until you have a paste. Then, add it to the toilet bowl and leave it to soak for as long as possible, at least an hour. However, we know this is a time-sensitive cleaning operation! If you have two toilets in the home, though, cleaning one and asking everyone to leave it alone while you do will ensure better results.
As the toilet is soaking, the paste will begin to break down the limescale and anything else in the toilet. Next up, you can grab your toilet brush or a strong bristle cleaning brush and some gloves and give the toilet a good scrub. As the limescale from your toilet is removed, you'll see the colour of the water change. This is good; the solution is working.
Now, because of the paste, the water in the toilet will probably be murky, so you won't be able to see whether the limescale has been completely removed. So, give the toilet a good scrub for several minutes, then flush the toilet and let the water settle. You should see a sparkling toilet, cleaner than you've ever seen before. If the limescale build-up was very extreme, you may need to repeat the process, but in most cases, the limescale below the waterline in your toilet should now be gone! Regular cleaning will now help you stay on top of the limescale and prevent it from returning.
How to remove limescale from the toilet rim
Removing limescale from the toilet rim can be very tricky as you need a cleaning solution that can defy gravity and cling to the rim of the toilet. Thankfully, you have one. Create a thick paste of vinegar and bicarb, and just before you apply it to the rim of your toilet, give the rim a wipe to remove any water. Then, once the rim is dry, cover it with the solution. Drying the rim first will ensure that the solution can stick. After the solution has had time to work (again, an hour of soaking will give the best results), you can scrub the toilet rim to remove the limescale buildup.
How to remove limescale from a toilet bowl
Many bowls have a thin line of limescale deposits on the back of the toilet bowl where the water comes out of the tank as you flush. This is really common, and our old friend's vinegar and baking soda can come to the rescue here too.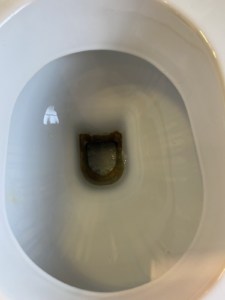 The process for cleaning this part of the toilet is exactly the same as the rim. Create a thick paste, dry off the area, apply the paste, leave it to soak, and get to scrubbing. You'll quickly notice the limescale build-up has broken down and been removed.
Using lemon juice
An alternative way to remove stubborn stains is lemon juice! Vinegar can be used with lemon juice. This combination works great and. The lemon juice needs to work its magic for about an hour, as when soaked it helps break down the calcium carbonate. After that, do some scrubbing and see the difference!
Using coca cola
Yes, the acidity of coca cola helps too. Pour coca cola and let it sit overnight. Flush the toilet and scrub if needed.
How to prevent limescale from returning
Once you have gotten rid of the limescale, we're sure you'd like to keep it away. The best way to keep toilet limescale away is regularly cleaning your toilet. All of the usual products will work great for this, toilet bleach, for example. Try and clean your toilet every week, at least, and don't be afraid of putting on some gloves and putting in some elbow grease. The cleaner you can make the toilet on a regular basis, the less likely it is that limescale will return.
Limescale removal methods to approach with caution
There are several methods of removing limescale off of the toilet that we would like you to approach with caution. The methods themselves are sound in principle but a little tricky to get good results with and could potentially damage your toilet if done incorrectly.
Using sandpaper
To remove stubborn stains from bowls, some people swear by using sandpaper, and this does make sense. Using an abrasive like sandpaper will remove limescale buildup and make your toilet look great. However, it is very easy to scratch the toilet by using sandpaper. And any scratches will not only look bad but also give the limescale another place to cling onto.
If your limescale build-up is extremely bad and you have tried every method in the book to get rid of it, then using sandpaper may be the only way to remove it. However, please be careful, and try to avoid touching the porcelain as much as possible.
Using a pumice stone
The same reason applies to using a pumice stone to clean thick limescale off of a toilet. While the method is sound and does work very well, you can easily damage your loo and the porcelain if you don't use it correctly. So, we'd recommended keeping this trick in your back pocket just in case your stubborn limescale ever builds up too much for other methods to deal with, but we wouldn't recommend trying this one first.
We hope this look at how to remove limescale from a toilet has been helpful. For more tips, please explore Cleaning Express further. Or, if you aren't as excited about removing limescale as us, and we can completely understand if you are not, why not give Cleaning Express a call and book in for a deep clean? We'll get rid of your limescale and a lot more!
Additional reading
https://cleaning-express.com/wp-content/uploads/2023/02/How-to-remove-limescale-from-toilet-bowl.jpeg
1600
900
Michael Bogoyavlenskiy
https://cleaning-express.com/wp-content/uploads/2019/07/Cleaning-Express-Logo-Full-Size-300x87.png
Michael Bogoyavlenskiy
2023-02-03 15:32:05
2023-05-23 13:40:51
How to remove limescale from toilet bowl