How To Remove Pet Hair From Carpet – 11 Tips & Tricks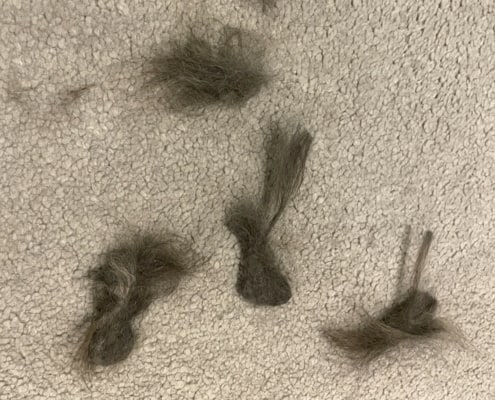 A pet is a wonderful addition to any home, but you must also be thinking of how to remove pet hair from your carpet on a regular basis. I can say that my home would not be the same without my beautiful, handsome and very good boy, Polar. He's a Labrador and brings so much joy to our house. However, with all of the joy that he brings, he brings about twice as much hair!
Once you have a pet, you spend as much time trying to remove pet hair from your carpet as you do enjoy their presence. Many people have figured out ingenious and creative ways of removing pet hair from carpets, many of which can be found below. We also have the easiest (and my go-to) option for quickly removing dog hair from carpets right at the end of this article, so stick around!
11 ways to remove pet hair from carpets
1. A lint roller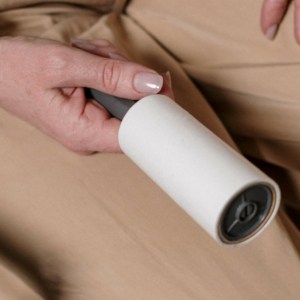 You can actually buy lint rollers with long handles that are designed for removing excess hair from carpets. They are wider than the typical lint roller that you use to remove pet hair from your clothes, but they work in the same way. They come with a roll of sticky paper, and as you roll it over the carpet, it picks up any hair, dust and dirt. Once the roller is full of pet hair, peel off that layer and reveal the next.
Lint rollers work great for removing pet hair from lots of surfaces. Many people reserve them for sofas and other soft furnishings, but they can be used to remove pet hair from your carpets too.
2. A hairbrush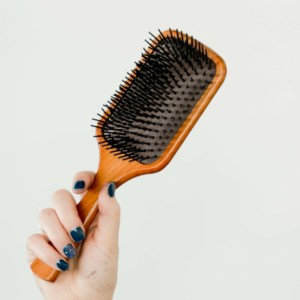 Just as a hairbrush collects loose hair as you brush your own hair, the same is true for the pet hair on your carpets. Simply run the hairbrush over embedded fur on your carpet, just as you would if you were brushing a giant's head and watch as it captures all the loose hair.
Now, this method takes some elbow grease. You'll need to get on all fours and just go for it. This is why many pet lovers only use this pet hair removal technique for smaller spaces. For example, this method works great on the stairs, and it doesn't actually take as long as you think.
Once you get the rhythm down and start brushing it, the pet hair will come up very quickly. My dog loves to sit on the stairs, and as a result, there is always hard-to-reach pet hair on my stairs. This method works perfectly for removing stubborn pet hair from carpets no matter where you use it, though.
3. Rubber gloves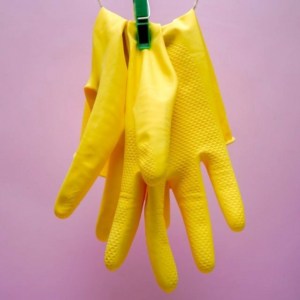 Do you know the bumps on rubber gloves that are designed to give you extra grip as you wash up? Well, these little bumps on a rubber glove are excellent for drawing pet hair out of the carpet.
Put on your rubber gloves, and start running your hands over your carpet. You'll quickly see how much pet hair this method can lift up. If you do this method, it is worth taking a bin bag around with you to collect all the pet hair. Thin latex gloves offer an impressive amount of grip and allow you to pick up dog and cat hair too.
Again, this is a rather labour-intensive method for removing dog and cat hair, but it does work great for smaller spaces. It works particularly well in the car. The carpets in cars love to cling to pet hair, yet the rubber glove method can free it up nicely and quickly.
4. Balloons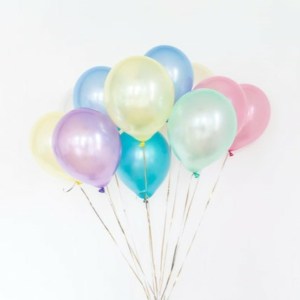 Okay, hear me out. This method of removing cat and dog hair from a carpet may sound like a crazy idea, but if it works, is it really crazy? I'm sure all of us have rubbed a balloon on our clothes and then put it over someone's head and watched their hair go crazy, right?
Well, instead of placing it over that person's head, place it over your carpet instead. The static charge on the balloon will lift the pet hair from your carpet just as it does during the hilarious party trick. It works surprisingly well, although it is difficult to reach into tight spaces with a balloon!
5. Fabric softener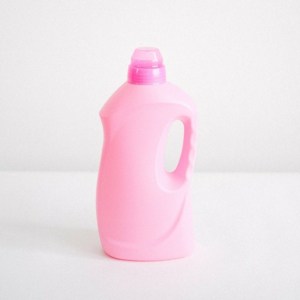 This pet hair removal method takes a bit of prep, but it is well worth it. You need to make a solution of liquid fabric softener and water in equal parts and pop it in a spray bottle. Yes, the same fabric softener you use in your washing machine. Don't worry; there is a method to this madness.
Then, spray this solution over your carpet in a very light mist. You do not need a lot of this solution. A very light misting will do. Once the fabric softener is dry, just vacuum your carpets as normal. Works like magic, right?
Well, it isn't actually magic. Fabric softener is designed to loosen up fabric, allowing water and detergent to pass through your clothes during the wash. So, when you apply it to your carpet, it loosens the carpet's grip on the pet hair, allowing the vacuum to pick more of it up. This works a treat, and once you have the spray bottle full of the solution, you can keep reusing it over and over again.
6. Baking soda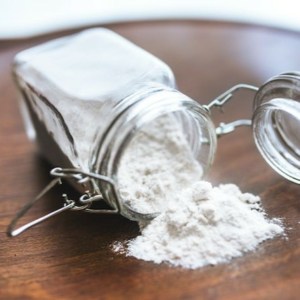 The baking soda method or bicarbonate of soda method is one of the easier methods you can use to remove dog hair from your carpets. Just grab your bicarb and sprinkle a bit over your carpets, making sure you get good coverage.
You only need a thin layer of bicarb, and then just leave it to work its magic. This will only take a few minutes. You can then vacuum up all of the bicarbonate of soda. The baking soda will cling to the dog hair and pull it out of the carpet.
If you leave the baking soda on your carpets for longer than a few minutes, it will also get rid of any odours in the carpet as well as remove hair. Baking soda acts as a deodoriser, so it is brilliant for getting rid of the smells that your pet can leave behind on your carpet too.
Baking soda has a wide range of effective uses, please have a look at our how to clean silver at home article to see other cleaning uses of bicarbonate.
7. Hair magnet
A pet hair magnet is actually not a magnet at all. Instead, it is a rubber squeegee that you draw over your carpets to pick up hair. The rubber blades on a PetMate magnet are thicker than standard rubber squeegees, although you can achieve a similar result if you only have a standard one.
Many people keep one of these in their car as it is one of the best things to use for getting pet hair out of car carpets. As these carpets are extremely clingy, using something like this makes a huge difference.
8. Carpet rakes
A carpet rake is an excellent tool for removing cat and dog hair from carpet fibres. It is basically a hairbrush on a long handle. There is a choice of plastic or stiff metal bristles on carpet rakes which delve deep into the pile of carpet fibres as you sweep it. The plastic bristles provide a gentler action, and the metal ones ensure all stubborn hairs are drawn out.
A carpet rake can bury deep into the pile and unearth even the most hidden hair. As it draws hair out of the carpet, the head collects it. All you need to do is remove the collected hair from the bristles periodically during use. Carrying a bin bag around makes this quick and easy.
9. Your pet's hairbrush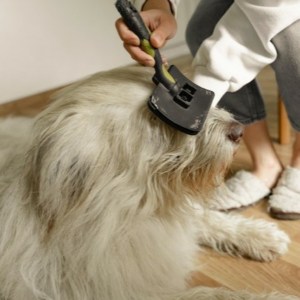 To remove dog hair from the carpet, why not use the brush you use for your dog? While this can be a very labour-intensive way of getting rid of hair, it is excellent for small spaces. As a dog owner myself, I have resorted to using my dog's brush to brush the stairs in the past.
This plain hairbrush works excellently, and once you get in a rhythm, this method to remove dog hair really doesn't take that long. As the metal and rubber bristles of the brush are quite long, it allows you to get deep into the carpet as well. So, it is a very thorough way of getting rid of dog hair.
10. Professional carpet cleaning machines
A professional carpet cleaner can be used to get rid of all of the hair, dust and dirt that your pet has pushed deep into your carpets over time. Hiring professional carpet cleaners to come to your home to clean your carpets periodically can make your carpets look brand new. Or you can hire a carpet cleaning machine for a day.
If you do like to keep your carpets looking as spotless as possible, you could consider investing in a wet and dry vacuum cleaner. These wet cleaning methods ensure that water and cleaning solution draw all the fur out of your carpets and keep them looking incredible for longer. This is one of the more expensive solutions to remove dog hair, but it is one of the best.
11. Anti-static spray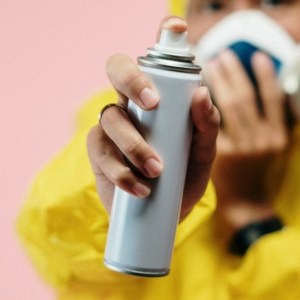 This spray works so well on dust and hair that it seems as though it is magic. Carpet fibres and hair have a static charge that gives them both natural gripping properties. So, when the two are brought together after your pet shakes, they can bond really well, which is why it's hard to vacuum pet hair up.
Spraying anti-static spray on your carpets regularly prevents them from having a static charge, so dust and pet hair doesn't bond as well to the fibres. Now, static spray really does work very well, which is why we're mentioning it. However, this method can get costly over time, and you really need to research the sprays you are buying to ensure they won't harm your carpet or your pet.
The easiest way to remove pet hair from carpet
For me and many other pet owners, investing in a vacuum that is designed to remove pet hair is the best way of getting rid of every single piece of pet hair that your lovely friend leaves behind. For so long, I resisted the urge to buy a pet hair vacuum cleaner, but I am so glad I did. I have a Shark pet hair vacuum cleaner that has powered brushes that make light work of all of Polar's hair and any dust and dirt in the carpet as well. It is actually shocking to see how much hair a vacuum cleaner like that picks up.
Now, this certainly isn't a sponsor for Shark, but my experience with their pet hair vacuum cleaners has been outstanding. If you are interested in buying a pet hair vacuum cleaner, though, the Telegraph have tested them all in this review.
In conclusion
There are several fantastic ways of getting rid of hair from your carpet. I have found that a good quality vacuum cleaner is the best option for me. Investing in one of these vacuum cleaners can make short work of bringing your carpets back to life.
If you don't have the budget for a pet hair vacuum cleaner right now, though, hopefully, the list of ways to remove dog hair from carpets above has been helpful. We particularly enjoy the baking soda method as it not only gets rid of the hair but also lingering odours.
We hope this look at removing pesky pet hair from your carpets has been helpful. There are lots of methods for pet hair removal, and if none of the ones we've mentioned above takes your fancy, you could hire us, Cleaning Express to come and give your carpets a good cleaning. Our carpet cleaning service will get rid of every pet hair, every stain and any evidence you own a pet. Other than the pet, of course!
Please also read: how much does carpet cleaning cost
https://cleaning-express.com/wp-content/uploads/2023/02/remove-pet-hair-from-carpet-scaled.jpg
1536
1920
Klaidas Kavaliauskas
https://cleaning-express.com/wp-content/uploads/2019/07/Cleaning-Express-Logo-Full-Size-300x87.png
Klaidas Kavaliauskas
2023-03-03 14:09:10
2023-07-12 21:17:06
How To Remove Pet Hair From Carpet – 11 Tips & Tricks