How Long Does An End Of Tenancy Clean Take?
We will explore everything there is to know about end of tenancy cleaning services and look at how long an end of tenancy clean takes. We also will discuss whether a professional service is the only way to go, or if you can do the cleaning yourself. Furthermore, we will dive into additional cleaning services you can add to an end of tenancy clean, like carpet cleaning services, for example. But first, let's jump in and find out exactly what this cleaning service is, shall we?

What is End Tenancy Cleaning?
A professional end of tenancy cleaning service is a comprehensive clean of an entire house. Every inch of the rented property will have a thorough cleaning to ensure that the tenants get their full security deposit back and that the landlords can get new tenants in quickly.
During an end of tenancy cleaning, professional cleaners use a checklist to ensure that no areas of your home are missed. Throughout the cleaning process, the cleaners will tick off each task. The cleaning checklist is extremely thorough, as you may expect. It ensures that all door frames, skirting boards, ceilings, kitchen cabinets, window sills and more surfaces are all dusted and wiped. All of the floors will be swept, mopped or vacuumed, and all commonly missed areas, like behind the toilet and inside cabinets, will be wiped down.
The goal of an end of tenancy cleaning is to wipe the slate clean. To give a blank canvas back to the landlord to rent out straight away, as this is the final cleaning that the property will receive in most cases. If the cleaning is done correctly, the tenants will receive their full deposit back, and the landlords can fill their rental property quickly.
What does the End of Tenancy Cleaning Service include?
End of tenancy cleaning services from professional cleaning companies include a deep cleaning of the entire property. Most professional services use a tenancy cleaning checklist to ensure no areas are missed. Here's a quick breakdown of the cleaning service you may expect:
Dusting and wiping all surfaces
Cleaning skirting boards and mouldings
Cleaning door frames, door handles, light switches and glass
Oven cleaning (as well as any other kitchen appliances)
Cleaning inside the kitchen cabinets
The interior side of the windows, sills and ledges will be cleaned
All other glass surfaces (the shower door and any glass in interior doors, for example) will be cleaned.
A complete clean of the bathroom, including the shower door, behind the toilet, the toilet bowl, taps and the sink
All hard floors will be swept and mopped
All carpets will be vacuumed.
For an extra cost, the cleaning team can do additional cleaning services to ensure your end of tenancy cleaning service is a complete cleaning in line with your rental agreement. These extra cleaning services can include carpet cleaning (this is great at removing stubborn stains) and window cleaning, for example.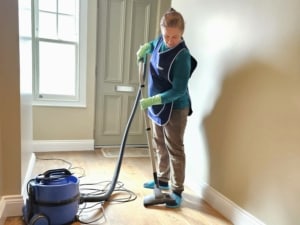 How long does the end of tenancy cleaning take?
For a larger home, with more rooms, for example, the end of tenancy cleaning will take 4-5 hours. However, the time of an end of tenancy cleaning can vary depending on a few factors. In a studio apartment or a standard one bedroom apartment, an end of tenancy shouldn't take any longer than a few hours.
What affects the end of tenancy cleaning time?
Many factors can affect the cleaning time on a big job like this. If any of your things are still in the property when the cleaning company arrives for the appointment, this can increase the time. If the property isn't in the cleanest condition, this can also slow the cleaning process down. Additional cleaning services like window cleaning, for example, can happen the day after the initial deep clean, but this depends on the schedule of the cleaners.
So, when booking your end of tenancy cleaning, try to arrange it so that you have all your stuff moved out and the property is ready to be cleaned. That way, the cleaning team can be as efficient as possible when they arrive.
How long does it take to clean a 2 bedroom flat?
Cleaning a two-bedroom flat, or house, for that matter, should only take a couple of hours. If you hire professional cleaners, they make very quick work of this very intense cleaning service!
How long should an end of tenancy cleaning take?
In general, an end of tenancy cleaning shouldn't take longer than a few hours or up to about 5 hours if your house is very large.
However, if you have additional cleaning services like window cleaning or upholstery cleaning added to the clean, it may take a bit longer. Most tenancy cleaners, though, will have the job done within a day, no matter the condition of the property or the additional services you need.
Should I do End of Tenancy Cleaning myself or call a professional cleaning company?
You can do self-cleaning for an end of tenancy clean, and there are cleaning checklists available online to help you clean the property correctly. However, we'd strongly recommend hiring a professional service so you can secure your deposit.
Please read our article about can landlord charge for cleaning?
While we can all clean our homes and keep them looking great week-to-week, this cleaning is one of the most intense that any property goes through. If you miss any areas, this could impact you receiving your entire security deposit back.
So, yes, you can do this cleaning yourself, and there's plenty of information to help you. However, with the stresses of moving house already on your plate, we'd suggest hiring a professional cleaning service to help. You'll save time and stress, and you'll be really glad you used the pros when you see the results.
Benefits of hiring a professional end of tenancy cleaner
There are a host of advantages to hiring a professional cleaner or team of cleaners to clean your rental property. Here are just a few:
Speed
Most of us struggle to do the regular cleaning (the vacuuming and a general tidy-up) in just a few hours. However, a professional cleaning company can clean your entire house and get it ready for the handover to your landlord in this time!
It is amazing how quickly a professional cleaning team can turn a property around. And while they focus on cleaning your property, you can focus on moving house.
Experience and knowledge
Do you know how to remove all of the stains on your carpet? Do you know the best way of getting rid of limescale on taps or soap scum on a shower door? All of this needs to be gone quickly, and professional cleaning companies know exactly what cleaning products to use to make these jobs easy.
Peace of mind
Professional cleaning service providers offer a free re-clean if the landlord or letting agent notices any areas of concern. This guarantees that if anything is out of place or cleaned correctly, the cleaners will return and put it right.
This means that your rental agreements will be adhered to, and you won't receive additional charges on your security deposit. So, once you hire the pros to do the job, they will do it until it is complete. This takes so much stress off of your plate.
Our end of tenancy professional cleaning services
Cleaning Express is a professional company based in London. We provide a host of cleaning services, including the best end of tenancy cleans in the city. We have extensive experience cleaning rental properties across London and use cleaning checklists approved by landlords, property managers and letting agents to ensure that all of our customers receive as much of their tenancy deposit back as possible.
To save time and stress when you're moving out, choose Cleaning Express for your end of tenancy cleaning. We provide a free consultation for all our cleaning services and ensure a fantastic end to your stay in the property.
https://cleaning-express.com/wp-content/uploads/2023/03/how-long-does-an-end-of-tenancy-clean-take2.jpeg
600
900
Klaidas Kavaliauskas
https://cleaning-express.com/wp-content/uploads/2019/07/Cleaning-Express-Logo-Full-Size-300x87.png
Klaidas Kavaliauskas
2023-03-30 16:03:03
2023-05-04 11:25:14
How Long Does An End Of Tenancy Clean Take?