We've all seen the flu and Covid adverts that show just how easily bacteria spreads on buses, trains and in other public spaces. Well, the same is true with bacteria in your home. If a member of your household has been ill recently, whether with the flu or Covid, bacteria could be all over your home. So, you need to know how to clean your home when someone is ill. By cleaning your home, you can get rid of the bacteria and minimise the risk of anyone else in the home getting sick. Here's some simple cleaning tips to help you clean when someone at home is ill.

What should you clean after someone is ill?
Giving your home a good clean is really important, of course, as bacteria can survive on all surfaces. However, bacteria can survive for a lot longer on harder surfaces than softer ones. So, here are a few areas of the home to focus on:
The TV remote – if your family member has spent a lot of their time watching TV while they are ill, there could be many bacteria on the remote. So, make sure to disinfect the remote regularly while they are ill.
The bathroom – did you know that nearly half the taps in the UK have flu bacteria on them? This is because bacteria can survive on metal for many days. So, ensure that you disinfect your taps as well as the sink, toilet, shower, bath and the floor too.
Tables and countertops – just like any horizontal surface in your home can become cluttered, they are also very likely to collect bacteria too. So, pay attention to your kitchen counters, tables and any other horizontal surfaces in your home.
Linen – make sure that you regularly wash your bed linen, particularly if you are sharing a bed with someone with the flu or Covid. Stuffed animals, towels and any type of blanket or throw should also be washed as regularly as possible. If you notice any 'fluids' on mattresses or sofas, give that area a good cleaning too!
If you make sure that your whole family washes their hands regularly, and you maintain your regular cleaning regime using disinfectant wipes and sprays on surfaces and washing your linens and clothes on hotter cycles, you can rid your home of cold, flu and Covid bacteria. However, there is a better way!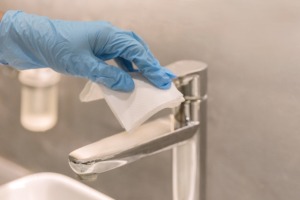 Use a professional cleaning service
Cleaning Express does offer deep cleaning and antiviral disinfection cleaning services too. These cleaning services are perfect for when someone in your home is ill. Our expert team of cleaners can get rid of all of the bacteria in your home in just a few hours. If someone in your household has had Covid or the flu recently and you need an antiviral disinfection cleaning service, give Cleaning Express a call or send us a message via website or Facebook.
These cleaning tips will help minimise the risk of your family coming into contact with bacteria after someone at home is ill. For more cleaning tips, please explore the Cleaning Express website further. And learn more about our other cleaning services that we provide.
https://cleaning-express.com/wp-content/uploads/2019/07/Cleaning-Express-Logo-Full-Size-300x87.png
0
0
Michael Bogoyavlenskiy
https://cleaning-express.com/wp-content/uploads/2019/07/Cleaning-Express-Logo-Full-Size-300x87.png
Michael Bogoyavlenskiy
2021-02-22 14:36:55
2021-02-22 14:36:55
What should you clean after someone at home was ill?