Workplace Housekeeping – Top Tips for Office Housekeeping
Keeping a workplace clean and tidy is vital. In a clean and tidy workplace, all employees can do their jobs much more effectively. Injuries, hazards and the risks of fire can all be reduced by housekeeping.
Below, we have some tips for workplace housekeeping, but the biggest tip to take away from this cleaning article is that workplace housekeeping is never done. You need to implement cleaning and tidying routines into the everyday operations of your business in order to keep everything in order. If you don't, the workplace can become dirty, messy, unorganised and dangerous.
Your workplace housekeeping should be closely linked to your business' safety culture. So, here are some handy tips for cleaning up your workplace and ensuring the safety of your employees.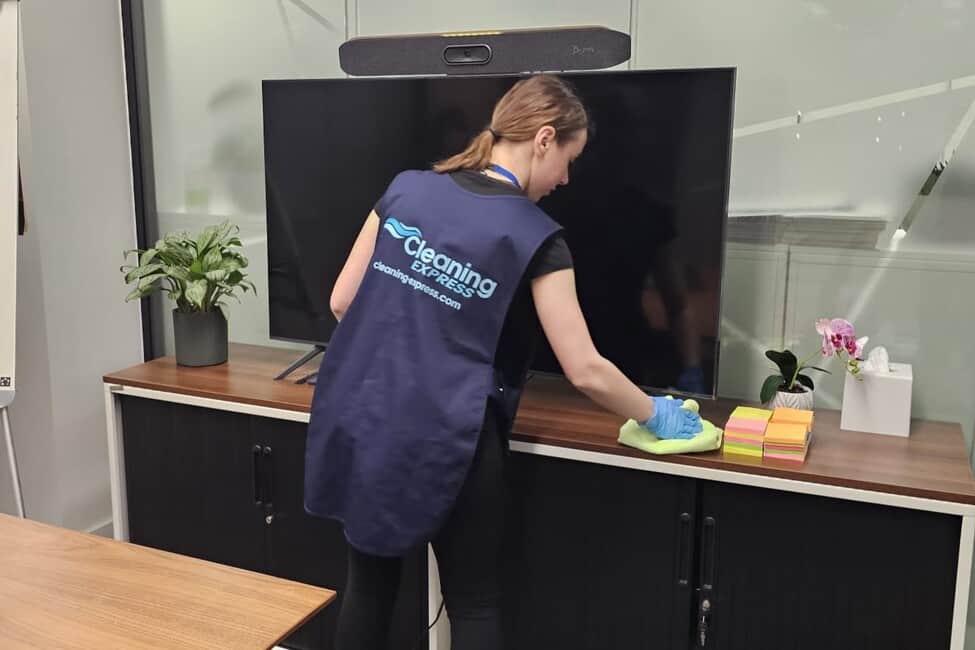 Slips, trips and falls
All workstations should be kept clean and sanitary. This includes desks, workbenches, passageways, store rooms and service rooms. All floors should be dry and clean without any tripping hazards in place. All floors in wet processing areas should also be kept dry.
Employers should also select the correct flooring based on the work that is to be conducted in this area. And provide non-slip mats wherever appropriate.
To prevent slips, trips and falls in the workplace, you should do the following:
If you see a spillage, clean it up, or notify someone to clean it up
If anyone sees an accident, report it to a supervisor or the employer straight away. This information can then be used to prevent accidents from occurring in the future
Report any damage to flooring or mats
Employees should keep their workstations tidy
If you see items on the floor creating a tripping hazard, these should be moved to a safer location
If you are required to wear PPE and it gets damaged, notify your supervisor or employer to arrange for a replacement
If you notice any dangerous working situations, notify your supervisor or employer as soon as possible
Fire hazards
Employees should be responsible for keeping unnecessary combustible material from piling up in work areas. It is the employer's job to create a safe place for these combustible materials to be kept on site.
To help keep fire hazards to a minimum, employers and employees should do the following:
Carry out fire safety risk assessments regularly
Keep flammable substances and ignition sources apart
Avoid accidental fires by anchoring portal heating units to prevent them from tipping over
Smoke alarms, fire alarms and bells should be installed around the workplace and tested regularly
Fire exits and all escape routes should be kept clear at all times
All workers should receive training on fire safety procedures they must follow, including fire drills
Review and update the company's risk assessment regularly and make any changes needed
Good fire safety housekeeping practices
Good fire safety procedures and risk assessments should be implemented in case of a fire. However, preventing a fire in the workplace should also be considered. Good housekeeping can help to prevent fires too. Housekeeping ensures that all bins are emptied, no dust is lingering on surfaces and that dirty rags are thrown away safely, etc.
Housekeeping can also make people aware of any fire hazards they come across during their rounds, ensuring that there is an additional level of safety. A clean and clutter-free workplace is much less likely to have a fire that gets out of control. And with more eyes on the workplace, fire hazards can quickly be dealt with.
Why is poor housekeeping a fire hazard?
If your business isn't kept clean and tidy, this can create the perfect environment for a fire. For example, if you work in a factory making wooden furniture and there are wood finishing products lying around, dirty rags covered in varnish, sandpaper and sawdust all over the floor and a portable heater that isn't anchored down correctly that is a big fire risk. All it takes is for someone to knock the heater over, and a fire can spread very quickly.
However, if the rags are disposed of correctly, the wood finishing products are kept correctly, and the floor is swept and clean, the fire would struggle to move around the workplace at all, even if the heater was knocked over.
Poor housekeeping is a big contributor to fires in workplaces. Workplaces must be cleaned correctly and precisely in order to prevent fires. Risk assessments are great at letting you know where the business can improve, and fire alarms are excellent for detecting fires, but good housekeeping practices are essential for preventing fires in the workplace.
Dusting
There are three main types of dust that workplaces need to concern themselves with:
Silica dust – this is created when working with things like mortar, concrete and sandstone
Wood dust – created when working with soft and hardwoods, plywood and MDF.
Lower toxicity dust – this is created when working with limestone, plasterboard, marble and dolomite.
If your workplace deals with any dust at all, good dust collection must be installed to help to collect the dust correctly and at the source. Or a water system that prevents dust from getting into the air can be used in certain situations.
Once the dust is safely collected, it must be disposed of in the same manner. Any bins for dust must be kept outside to prevent the dust from spreading back into the working environment, and all employees should know how to safely and correctly empty all dust extraction systems. Air filters can also be used to clean the air in the workplace.
Prevent Falling Objects
To prevent objects from falling on workers, place heavy objects lower down on shelving wherever possible. Avoid stacking heavy objects close to where workers walk or work and keep heavy objects away from the edges of shelves and desks. You should also keep the layout of your business in mind. The layout of walkways, for example, can be adjusted to ensure no one is walking near heavy objects.
Falling objects can lead to severe injuries. Your workers should be provided with and wear the correct PPE for the environment and the correct layout and stacking procedures should be put in place. Housekeeping can also help keep track of heavy objects notifying supervisors of anything needing their attention.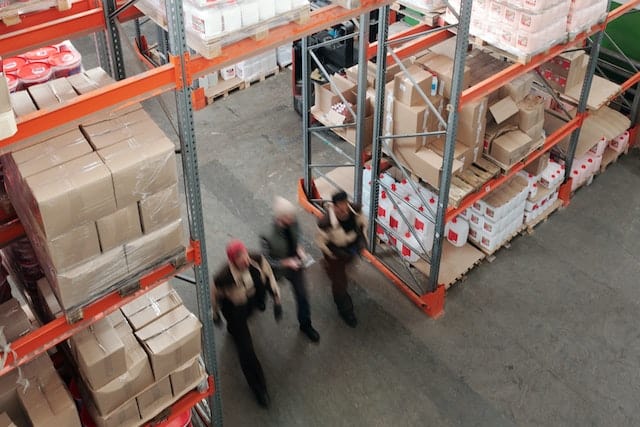 Declutter
A cluttered workplace makes for a cluttered mind, but can also be extremely dangerous to people working in it. Good housekeeping practices can keep clutter down to a minimum, as can organisation from the workers. Putting things back once a job is complete, ensuring all walkways and workstations are clutter-free and clean and keeping everything in its rightful place will ensure that a workplace stays as clutter-free and clean as possible.
Purging untidy workspaces should happen frequently. This prevents injury to workers and may help to increase productivity as well. Creating a housekeeping plan that allows the cleaners and workers to declutter the workplace ensures safety and cleanliness are kept in good order.
Regular waste disposal
Good waste management starts at the source of the waste. If your workers are not putting waste into the correct bins, the housekeeping team can dispose of it correctly. Training your workers to dispose of things correctly, hazardous waste, for example, ensures that waste disposal is done correctly and safely.
The housekeeping team can then empty all bins and put the waste in the correct waste disposal units outside. These should be emptied regularly, and may not be included in your regular waste disposal services. If this is the case, regular visits from the correct waste disposal services should be arranged.
Create a cleaning checklist for housekeepers
Written health and safety rules are really important, but so are written housekeeping rules. Whether you have a team of cleaners on site or you hire a cleaning company to clean your workplace for you. A checklist for the cleaners responsible for cleaning your workplaces ensures that all of the cleaning work is carried out and that everyone knows what is expected of them.
If the cleaning team isn't doing the job correctly it is also much easier to see with a cleaning checklist in place. Plus, a cleaning company can recommend cleaning tasks to be added to the checklist for additional safety.
Please see our office cleaning checklist
Cleaning frequency
Your business needs to be cleaned regularly to make sure your workers are safe and working in a clean and tidy environment. This will create a productive, clean and safe working environment that your workers will enjoy being in.
Different businesses required different levels of cleaning, but most businesses can benefit from a daily cleaning service to do all of the regular cleaning tasks, and then a deep cleaning anywhere from once a month to every three months.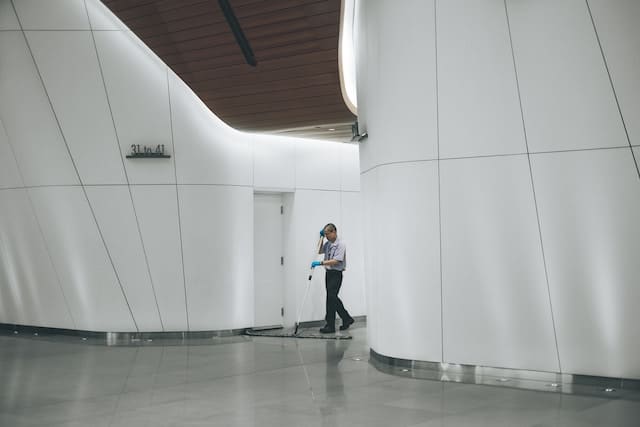 Keep on top of your workplace housekeeping
As you can see, workplace housekeeping takes commitment, planning and a team of cleaners. However, if you put the correct housekeeping plan together you can make your business safe, clean and clutter free for your staff. You can drastically reduce the risk of injury and fire and ensure that your staff are happy, motivated and ready to work.
Looking for a commercial cleaning company to undertake your workplace housekeeping? We are Cleaning Express, an award-winning cleaning company based in London. We have fully trained cleaners that can clean your workplace for you. We clean offices, warehouses, industrial units, medical facilities and more. To find out more about our cleaning services and for our help creating the perfect housekeeping cleaning plan for your workplace.
Also read: Is commercial cleaning worth it?
https://cleaning-express.com/wp-content/uploads/2019/07/Cleaning-Express-Logo-Full-Size-300x87.png
0
0
Klaidas Kavaliauskas
https://cleaning-express.com/wp-content/uploads/2019/07/Cleaning-Express-Logo-Full-Size-300x87.png
Klaidas Kavaliauskas
2023-06-07 10:43:57
2023-08-10 13:57:38
Workplace Housekeeping – Top Tips for Office Housekeeping