Is Commercial Cleaning Worth It?
If you run a commercial business, you might be wondering if it's worth hiring an external cleaning company. While you could set up your own team, is commercial cleaning worth it?
The short answer is that commercial cleaning is worth it in terms of simplicity and quality. Look at it the same as outsourcing any other professional service as part of your business. High-quality cleaning is vital in any public space. As such, outsourcing commercial cleaning should be a no-brainer.
In this article, we'll cover the reasons for arranging commercial cleaning in more detail.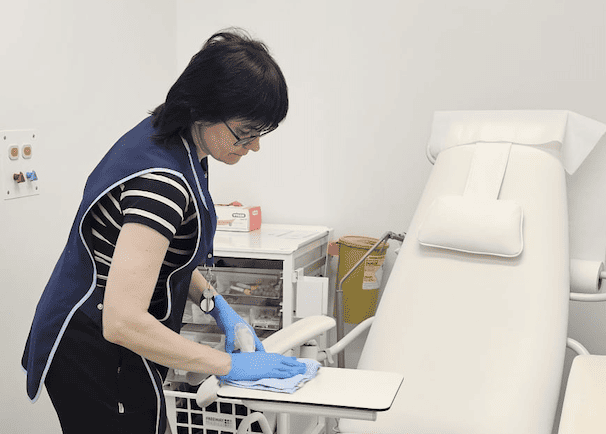 Benefits of Commercial Cleaning Services
Deciding to arrange commercial cleaning for your business should be an easy decision. Whether you run a retail store, pub, office, gym, or any other commercial business, here are the benefits of outsourcing your cleaning.
Saves Time and Money
One of the most important benefits – at least from a business perspective – is saving time and money. If you were to set up your own cleaning team, you'd need to hire and train staff and buy equipment. All of this costs a lot of money.
On the other hand, outsourcing to an established cleaning company allows you to take advantage of their resources. They'll have all the right equipment and will handle training their staff to a high standard. Similarly, it frees your staff up to focus on their primary job roles.
Health & Safety
There are plenty of ways commercial cleaners can help with health and safety in your commercial space. These include:
Dealing with slip hazards
Sanitising communal areas
Reporting and taping off trip hazards
Keeping fire safety routes clear
Dusting – removing low toxicity and irritating dust
The bottom line is that a clean environment is a safe environment. So, don't compromise when it comes to commercial cleaning and ensure you hire a professional company that knows how to deal with these aspects.
Learn more about workplace housekeeping.
Cleaners with Years of Experience
Hiring a commercial cleaning company means having access to a team of cleaners with years of experience. In the same way that you wouldn't try to fix your plumbing or wiring, outsourcing to professional cleaners gets the job done properly.
Most importantly, this means they'll get the job done quickly and will know the proper techniques to clean your commercial space. Having a team that knows the tricks of the trade will make a big difference to how long the job takes!
Cleaning to a professional standard is vital in commercial businesses. Customer-facing areas should be spotless to create a good impression of your company. But staff areas should also be clean to ensure safety and to provide your employees with a good working environment.
How to Choose the Right Commercial Cleaning Service
Choosing a commercial cleaning company might seem like a straightforward decision. But it's important to research companies first to make sure you're hiring one capable of meeting your needs.
Here are some factors to consider when choosing a commercial cleaning service.
Prior Experience
Always make sure the company you're considering has experience working in the type of commercial space you own. It might not seem like a retail store needs different cleaning than a gym, but it does.
Check the cleaning company has customer testimonials and evidence they've worked in similar spaces before. This is the best way to confirm they know what they're doing.
Consider Your Budget
You should also shop around for a few quotes from cleaning companies to see what's an acceptable price to pay. Although the cheapest might be the most tempting, it's usually best to pay a bit more for higher quality. This is true for most things but especially so for commercial cleaning!
Check Their Credentials
Along with checking their prior experience, you'll want to make sure the cleaning company has all the necessary documents in place. The most obvious is insurance. Public liability insurance is vital so the company is covered in case anything goes wrong on the job.
Similarly, see what contracts they offer. Ideally, you'll want a flexible contract that can be tailored to your needs, which can change quickly based on business demands. It might also have to cover unsocial hours (particularly important for cleaning outside of opening hours), so check this with them too.
Conclusion
Hopefully, this article has convinced you that commercial cleaning services are indeed worth it. Along with saving you time and money, outsourcing cleaning ensures a much higher standard is met. As any business owner knows, this is vital for ensuring quality and success within the business.
Cleaning Express Commercial Cleaning Services
If you're looking for commercial cleaning in London, look no further than Cleaning Express. We have years of experience cleaning all kinds of commercial spaces, ranging from offices and hotels to retail and schools. We've even won awards for the quality of our cleaning!
Get in touch to discuss our commercial cleaning services in London and see how we can help.
https://cleaning-express.com/wp-content/uploads/2019/07/Cleaning-Express-Logo-Full-Size-300x87.png
0
0
Klaidas Kavaliauskas
https://cleaning-express.com/wp-content/uploads/2019/07/Cleaning-Express-Logo-Full-Size-300x87.png
Klaidas Kavaliauskas
2023-08-10 13:55:12
2023-08-10 13:55:12
Is Commercial Cleaning Worth It?