Restaurant Cleaning Checklist
As any restaurant owner knows, cleaning is a major part of running the business. Customers expect a clean and hygienic place to eat, and cleanliness is also an important aspect of your business's hygiene rating.
So, what does a restaurant cleaning checklist actually look like? Let's cover this below, breaking it down into front and back of house.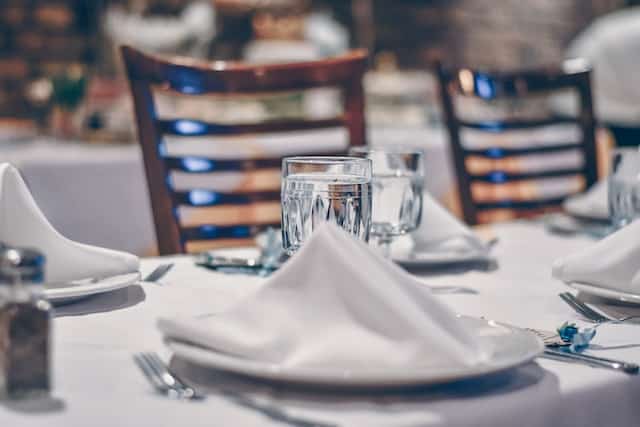 Back-of-House Cleaning Checklist
Back-of-house refers to the kitchen and any other areas customers don't go. Even though customers won't see these areas first-hand, it's vital to keep them spotless. As such, you'll want to do the following on a daily, weekly, and monthly basis.
Daily
After service has finished every day, ensure your kitchen team does the following:
Wipe down and disinfect prep surfaces
Wash cutting boards, utensils, pans, etc.
Clean grill, hobs, ovens, salamander, etc.
Sweep and mop floors
Empty bins and replace bin bags
Wipe down cabinets, fridge doors, handles, etc.
Remove and replace towels, aprons, uniforms, etc.
Daily cleaning in a kitchen generally comes down to creating a workspace suitable for the next day's service. It's mainly concerned with cleaning and disinfection so the kitchen is sanitary.
Weekly
Weekly kitchen cleaning usually takes place during quiet periods, often between lunch and dinner service or before the kitchen opens. Work out which is your quietest day of the week and do your weekly cleaning on this day to ensure consistency.
Weekly cleaning includes:
Clean ovens
Check fridges for temperature and missed food
Clean and sanitise fridges, freezers and walk-ins
Change fryer (if necessary)
Remove limescale from taps and sinks if necessary
Clean rubber floor mats
Disinfect bins
De-grease air vents
Clean walls
Monthly
Unsurprisingly, monthly back-of-house cleaning jobs are fairly thorough. However, they also cover areas that don't see frequent use or that take a while to get dirty. These include:
Clean fridge and freezer coils
Deep cleaning ice machines
Deep cleaning espresso machines
Sanitising walls and ceiling
Clean behind ovens and fryers
Deep cleaning air vents
Replacing pest traps
Front-of-House Cleaning Checklist
Front-of-house is the area that customers see. This means cleaning needs to be very thorough, as mess can obviously hurt your customers' perceptions of your business.
Daily
Daily cleaning of the restaurant area should be done every evening after service. It includes:
Wiping down tables
Re-laying cutlery
Vacuuming the floor and mopping
Wipe down chairs
Inspect, wipe down and replace menus if needed
Remove and replace tablecloths, napkins, etc.
Inspect table condiments and refill and clean if necessary
Clean bathrooms
Wipe down bar areas
Daily restaurant cleaning is usually handled by the waiting staff, but it may help to get some kitchen staff involved depending on the size of the job.
Weekly
As with weekly kitchen cleaning, it's best to handle weekly front-of-house cleaning before service on your quietest day. It includes:
Dusting wall decorations
Removing cobwebs and wiping down walls
Deep cleaning booths
Sanitising doors
Cleaning windows
You may need to ask front-of-house staff to come in early or stay longer after their lunch shift to get this work done. As such, it might help to rotate between staff to make it as fair as possible.
Monthly
Monthly front-of-house cleaning is less extensive than monthly cleaning and only involves the following jobs if necessary:
Replacing menus if not laminated or in menu holders
Washing salt and pepper shakers
Vacuuming behind floor decorations, booths, etc.
Moving furniture to vacuum underneath
Deep cleaning reception areas
FAQs
What should be cleaned in a restaurant?
Everything should be cleaned in a restaurant on at least a monthly basis. How often things are cleaned depends on how frequently they're used or how long it takes them to build up dirt.
What is the best cleaner for restaurant walls?
The best cleaner for restaurant walls is usually a commercial-grade disinfectant for the kitchen, as the building materials can handle something this harsh. For restaurant areas, where the walls are painted, a duster or dry cloth will be best.
Do restaurants use bleach to clean?
Restaurants often use bleach to clean, although it'll be watered down and only used on specific areas (such as floors). Food-grade cleaners are a better option for prep surfaces, as you don't want to risk contaminating food with improperly diluted bleach!
Conclusion
Hopefully, this restaurant cleaning checklist will help you know what to clean and when. It's no secret that keeping a restaurant clean is a big job, but breaking it down into daily, weekly and monthly elements makes things more manageable.
Cleaning Express Restaurant Cleaning Services
If you need to outsource your restaurant cleaning in London, see what Cleaning Express can do. We've got years of experience working with both front-of-house and kitchen cleaning, and can help you maintain the professional standard that your customers expect.
Also read: Office cleaning checklist
https://cleaning-express.com/wp-content/uploads/2019/07/Cleaning-Express-Logo-Full-Size-300x87.png
0
0
Klaidas Kavaliauskas
https://cleaning-express.com/wp-content/uploads/2019/07/Cleaning-Express-Logo-Full-Size-300x87.png
Klaidas Kavaliauskas
2023-09-02 13:20:14
2023-09-02 13:20:14
Restaurant Cleaning Checklist