Buying a leather sofa is a great idea. They are very durable, stylish and can last a lifetime as long as you take care of the leather. Taking care of a leather sofa isn't too difficult, but it does require a few cleaning tricks and tips. That's what we're discussing today. How to clean your leather sofa and how to make it look new for as long as possible. To start with, here's a quick leather sofa cleaning trick that will keep your sofa looking new for years. The best leather sofa cleaning tip in the world!


Regular cleaning
To ensure that your leather sofa continues to look stylish and beautiful for many years, you need to clean it regularly. For this, all you need to do is wipe your sofa down with a dry cloth or vacuum it every week or two weeks. This will take care of the leather and ensure that no dust stays in the creases long enough to do any damage. This is brilliant for maintaining your leather sofa, but it will still require a deep clean every three to six months. Here is a step by step guide on how to deep clean your leather sofa, don't worry, it isn't difficult.
A step by step guide on deep cleaning a leather sofa
What you'll need:
A vacuum cleaner
A couple of microfibre cloths
Saddle soap (some people do use homemade leather cleaners, but these can be tough on delicate leathers. If you plan on using vinegar or bicarbonate of soda, for example, do check an inconspicuous area first).
Leather cream
Step One: Your regular cleaning method
To start the deep clean of your leather sofa, you'll need to remove any dirt and dust from the surface of your sofa. Your usual cleaning method (either vacuuming or using a dry cloth) will be fine for this step. This stops the dirt being moved around when you're wiping down the sofa with a cleaning solution, which is the next step.
Bonus tip: if you have a soft brush attachment for your vacuum cleaner, use it here. Your vacuum cleaner may scratch your leather, which is, of course, the reverse of what we want. If you don't have a soft brush attachment for your vacuum cleaner, or you'd prefer not to use it, a dry microfibre cloth is an ideal substitute.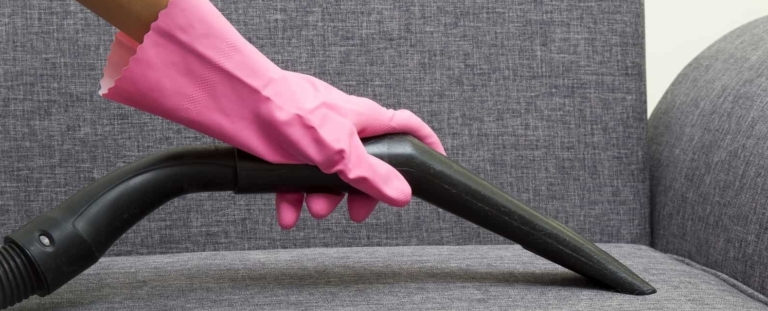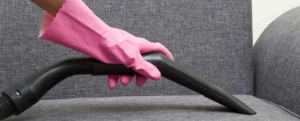 Step Two: Test the Saddle Soap or Natural Cleaner
As we said above, we prefer using saddle soap (or a dedicated leather sofa cleaner) to clean leather sofas as they are designed for the job. However, you can use a natural cleaner if you wish. In either case, though, now is the time to test the cleaner on an area of the sofa that you won't see. Just apply a small amount of the leather cleaner you intend to use on an area that isn't highly visible. Let it dry and ensure that the results are what you want. Look for any darkening or discolouration. If there is any, you'll want to change the leather cleaner you are using. It can help to look at reviews of commercial leather cleaners or search for the perfect natural leather cleaning solution to use. Still, do test them before committing to using them on your whole sofa.
Step Three: Cleaning Time
You'll need two clean microfibre cloths for this step. One of these cloths will be used for cleaning the sofa with your choice of leather cleaner. The other one will be for drying the sofa, so put that to one side for now.
Apply some leather cleaner to the cloth. The cloth shouldn't be soaking wet, just damp. Then work from the top of the sofa down, making sure you get into all of the creases and corners. Ensure to reapply the leather cleaner as you go, while making sure that the cloth is never heavily soaked in the solution. You can also rinse the cloth with warm water and wring it out if you notice any heavy dirt build-up.
Once you're done, use the other microfibre cloth to dry the sofa as best as you can. You can begin to gently buff the sofa as you go to start the polishing process. You don't need to rinse the solution out of the leather, as you haven't used too much. Just ensure that the leather is nice and dry after this step. If you notice that the microfibre cloth is becoming very damp, you may need another cloth to finish this process.
Step Four: Apply a Leather Conditioner
Now that your leather sofa is clean and buffed out nicely, you need to apply a leather conditioner. If you don't, your leather can crack and become brittle. Following the instruction of your chosen leather conditioner will ensure that it restores suppleness and moisture to the leather. This step is very important for maintaining a leather sofa and ensuring it looks wonderful for years. Your leather sofa should be conditioned at least once a year, but it should always be done after a deep clean.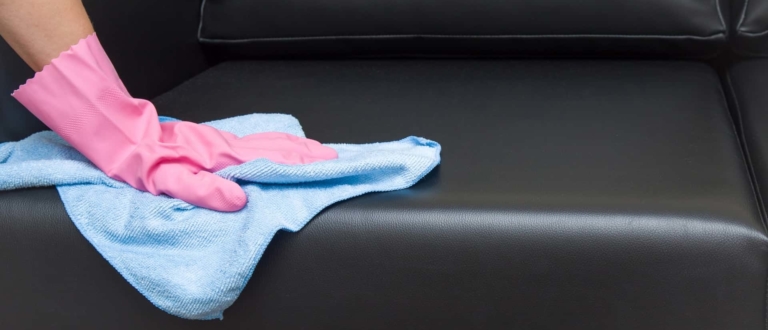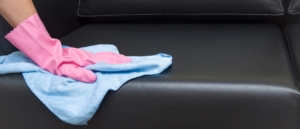 Bonus Tip: What about spills?
Of course, many leather sofa owners are cleaning their sofa regularly already and perhaps are looking for cleaning tips to aide them when the worst happens. If you spill anything on a leather sofa, it can spell disaster if you don't know how to tackle the spill.
To ensure that a stain doesn't ruin your leather sofa, it is best to act quickly. Blot up the stain as soon as you can. This goes for water, oil, ink, wine or food. You need to do this before the stain has time to set. Rubbing alcohol can be used to carefully lift ink stains, and bicarbonate of soda works well on grease. Once you have lifted the stain, you can then repeat the deep cleaning method above to ensure that your leather sofa still looks brand new.
More cleaning tips
We hope this look at cleaning a leather sofa has been helpful. As we said, cleaning a leather sofa and keeping it looking new isn't difficult. It requires a touch of elbow grease, but your sofa will look great for many years to come.  For more cleaning tips, please explore the Cleaning Express blog further. To find our more about our cleaning services from Cleaning Express, give us a call or send us a message via website or facebook. One of our excellent cleaning team can be with you as soon as tomorrow.
https://cleaning-express.com/wp-content/uploads/2019/07/Cleaning-Express-Logo-Full-Size-300x87.png
0
0
Michael Bogoyavlenskiy
https://cleaning-express.com/wp-content/uploads/2019/07/Cleaning-Express-Logo-Full-Size-300x87.png
Michael Bogoyavlenskiy
2021-01-11 11:02:18
2022-03-22 09:39:25
How to clean leather sofa