Difference between regular domestic cleaning and end of tenancy cleaning
Domestic cleaning is a regular clean of your home. While an end of tenancy clean is a deep scrub of an entire rented property. While both jobs involve cleaning, they are relatively different. So, we're going to breakdown the cleaning services that Cleaning Express provide in this article and show you the differences between regular domestic cleaning and end of tenancy cleaning. So, let's get started!
What is Domestic Cleaning?
Our domestic cleaning service at Cleaning Express includes every cleaning task that our customers require us to do. However, typically, these cleaner tasks are not all done at once. Instead, our cleaners will tackle certain cleaning tasks each time they enter our customer's homes. So, one week our cleaners may tidy the downstairs of a house, dust and mop the kitchen floors, for example. Another week, they may iron, stack the dishwasher and vacuum. So, while Cleaning Express' domestic cleaning services include all cleaning tasks, they are not performed at the same time.
Read our article about what is domestic cleaning to learn more.
What's End of Tenancy Cleaning?
End of tenancy cleaning services include every cleaning service that we offer our domestic cleaning customers regularly and more. So what is the End of Tenancy Cleaning? We go into a rented property and clean every inch of it. We clean the kitchen cupboards, behind the toilet, the skirting boards and even the oven. We can clean the carpets and upholstery too. We use a checklist for all of our end of tenancy cleaning services that most of the estate agents in London use to check a property when it is handed back to them. This checklist is designed to show any areas that aren't clean. Our cleaners use it to ensure that a rented property is always handed back in the cleanest condition possible.
See our end of tenancy cleaning checklist
The difference between domestic and end of tenancy cleaning
So, think of end of tenancy cleaning as a deep clean or purge. It is completely going over an entire property (typically in a few hours) to make it appear as clean and new as possible. Domestic cleaning is where our customers have a regular cleaner that comes into their home every day, week or month, whatever works best for them. That cleaner will tackle any cleaning tasks that customer needs them too in the allotted time they have.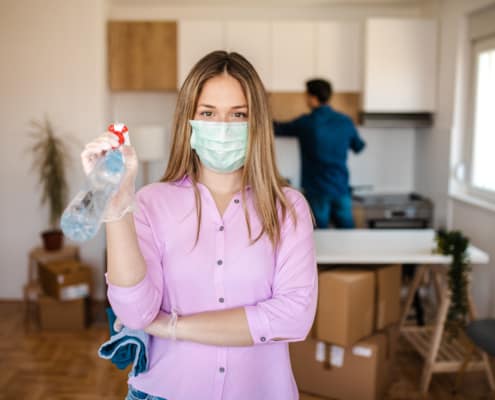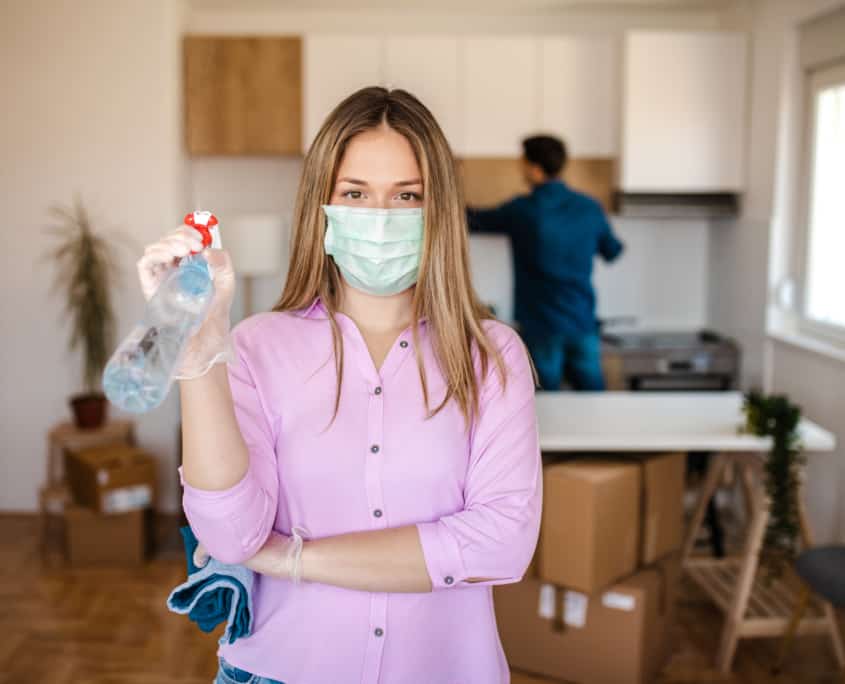 Can a homeowner have an end of tenancy-type cleaning of their home?
Yes, they can. Here are Cleaning Express these are called Deep Cleaning Services. They are exactly the same as our end of tenancy cleaning services. We can clean your carpets, upholstery, oven, skirting boards and every other inch of your home. Our deep cleaning services are perfect if you've just moved into a new house and want to make it feel like a home. They are also great if you have been a bit too busy to clean and need a hand getting your home back in shape. Our domestic cleaners can then come in and help you keep it at a high standard after our spring cleaners have been in.
We hope this look at end of tenancy and domestic cleaning has been helpful. Before you head off to the booking form, please check out our cleaning reviews on TrustPilot. They are always on hand to tell you about our tailor-made cleaning services in London.
Want to know the difference between a deep clean and a regular clean? Read our article now.
https://cleaning-express.com/wp-content/uploads/2019/07/Cleaning-Express-Logo-Full-Size-300x87.png
0
0
Michael Bogoyavlenskiy
https://cleaning-express.com/wp-content/uploads/2019/07/Cleaning-Express-Logo-Full-Size-300x87.png
Michael Bogoyavlenskiy
2020-11-27 13:59:40
2023-03-09 11:51:17
Difference between regular domestic cleaning and end of tenancy cleaning